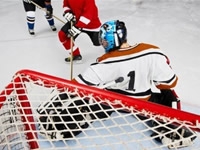 The last seeded Los Angeles Kings attempt to keep the dream alive against the second seeded St. Louis Blues as the NHL semi final series between these two clubs resumes tonight in Scottrade Center at 9:05ET. The game can be viewed nationally on the CNBC cable network.

After dispatching the President trophy winning Vancouver Canucks in just five games, the Kings picked up where they left off on Saturday night defeating the Blues 3-1. As he was against the Canucks, aptly named goalminder Jonathan Quick, stopped all but one shot that came his way. He had 28 saves in the contest. Start your Hockey Betting action on Los Angeles Kings vs. St. Louis Blues game.

It may be early for this conjecture, but can you imagine a Phoenix versus Los Angeles Western Conference final travelling between the desert and Tinseltown? Me either, but if Quick and Coyote goaltender Mike Smith keep up their elevated performance levels, it is beginning to seem like a real possibility. But back to reality.

Quick stopped St. Louis shots early and often, with the early part being the key to keeping the Kings in the game long enough for two defensemen, Slava Voynov and Matt Greene to score two of the three and all that would be required for the victory. Dustin Penner added an empty netter to make it official. Quick has now won 5 out of 6 in the postseason, with remarkable stats of just under one and a half goals a game and a save percentage of ninety six percent. Check the Sportsbook Odds for Los Angeles Kings vs. St. Louis Blues game.

In defense of St. Louis, they had a week lay off after eliminating San Jose, but actually played well early anyway with David Backes scoring the first and as it turned out, only, goal for the Blues 9:16 into the first period.

Blues goalie, Brian Elliot had decent numbers of his own, allowing just two scores, albeit, one short handed, before Penners empty netter made it 3. Even with Quicks dominant performance in game one the oddsmakers have installed St. louis as home favorites at -$155, while L.A. Is +$135. The good goaltending is having an effect on the over/under established at 4.5 total goals and -$120.

Open an account for the best Sportsbook Parlay and Vegas Teaser Payouts in the Industry.