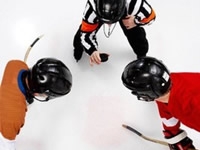 The Florida Panthers already broke the longest playoff drought in the NHL. However, they still have the second longest post-season series victory drought. The Panthers have not won a playoff series since 1996. The Panthers have a 3-2 series lead over the New Jersey Devils and have a shot at breaking that drought tonight at Newark's Prudential Center. The game will be airing in the United States on the NBC Sports Network and is in Canada on TSN in English and RDS in French.

The last two games in the series were shutout games for two different teams. The Devils won the fourth game with a 4-0 win while the Panthers won the last game on Saturday with a 3-0 win. None of these games have gone into overtime, an interesting feat considering how there have been more overtime periods in this year's playoff action than what people usually find. Start your Hockey Betting action on Florida Panthers vs. New Jersey Devils game.

Martin Brodeur will be starting for the Devils. Brodeur has started all five games for the Devils in this series but was pulled in one. Brodeur had thirty saves in his last outing but gave up two goals. The third goal for the Panthers was short-handed.

Ilya Kovalchuk is getting the most playing time for the Devils. The winger is getting twenty-five minutes a game. He only has three points this series though.

Jose Theodore is going to start for the Panthers. Theodore sat out one game in the series and was pulled only six minutes into one game but he made a thirty-save shutout in his last game. Check the Sportsbook Odds for Florida Panthers vs. New Jersey Devils game.

Mikael Samuelsson has scored four assists for the Panthers during the series. Three of these assists from the winger came off of the power play. Brain Campbell also has four points and has played in twenty-five minutes per game on average. However, his plus/minus is at -2.

New Jersey is favored to win at the Rock tonight. New Jersey has a -165 advantage with Florida listed at +135. The over/under has a five goal number and the Devils have +190 odds for topping the -1.5 spread. The two teams will face each other again in Miami on Thursday in the event that the Devils end up winning.

Open an account for the best Sportsbook Parlay and Vegas Teaser Payouts in the Industry.