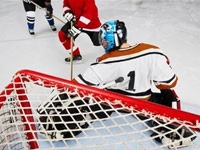 Hooray for Hollywood! You may think that would be the phrase being sung by the Los Angeles Kings as they return to the Staples Center tonight for an 8:05ET puck drop in game three of the NHL Stanley Cup Finals. For the national TV audience this one is back on the NBC Sports Network, as opposed to the the actual NBC Network. I guess the suits at 30 Rock just couldn't live with the thought of "merica's Got Talent" playing second fiddle to the National Hockey League.

In any event, it may actually be the Devils who are glad to be in Tinsel Town after dropping the first two games of this series in Newark. Not only did they lose them both, but interestingly enough, the results were an identical score of 2-1 with both being decided in overtime. Start your NHL Betting action on Devils vs. Rangers game

The winning goal in game one was scored in spectacular fashion as Andre Kopitar streaked down on a breakaway and 40 year old Devils netminder, Martin Brodeur had no chance, as the game winner flew past him, as he lay on the ice. Colin Fraser, centering the 4th line for the Kings had their first goal while Anton Volchenkov had New Jerseys only tally.

Brodeur had nothing to be ashamed of as he stopped 23 other shots in the contest and Jonathan Quick almost took the night off facing only 16 shots. With the way he's been playing its surprising that one even got past him. Check the Sportsbook Odds for Devils vs. Rangers game.

In game two it was pretty much deja vu, all over again as Yogi Berra would say, except this time it was Jeff Carter netting the game winner in OT as the Kings once again emerged victorious 2-1. This time Quick was back to his usual self, stopping 32 of 33 shot attempts. The Kings have now won 10 in a row on the road this postseason and are 14-2 overall.

Tonight's contest must be seen by the Devils as a "must win," even though the first two affairs were close. It's hard to envision New Jersey winning 4 in a row vs. this group from L.A., if they drop tonights game. As you might expect, Los Angeles is a home favorite at -$165, while the Devils are +$145. The over/under is 4.5 total goals on a $110/$100 moneyline.

Open an account for the best Sportsbook Parlay and Vegas Teaser Payouts in the Industry.