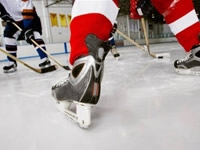 The Toronto Maple Leafs visit the Buffalo Sabres in NHL action on Tuesday. Toronto is 34-39-9 this season and Buffalo is 38-31-10.

Buffalo is the moneyline favorite to win this matchup at -240, the over under is at 5.5. Start your Hockey Betting action on Toronto Maple Leafs vs. Buffalo Sabres game.

ESPN power rankings have the Sabres at 17 and the Maple Leafs at 29. Buffalo lost to Toronto on Sunday and the story could repeat itself. The Sabres have been very good lately but Toronto is motivated to take them out of the playoff picture.

The Sabres offense is ranked 18th with 2.5 goals per game while the Toronto offense is ranked 10th with 2.8 goals per game. The Buffalo defense is much better allowing 2.7 goals per game, the Toronto defense is not so good they allow 3.1 goals per game and are ranked 28th.

This matchup features 2 teams that desperately want to win. Buffalo is doing everything they can to get into the playoffs and Toronto, out of the playoff picture, wants to take the Sabres with them. Check the Sportsbook Odds for Toronto Maple Leafs vs. Buffalo Sabres game..

The total has gone under in ten of the last fourteen games that Toronto has played visiting Buffalo. Buffalo is 7-2 in the last 9 games they've played at home but Toronto has already showed that they can beat them.

Buffalo does have a better record and they have everything to lose if they don't win this matchup. They will come out motivated and ready to play on Tuesday and the Maple Leafs are only playing for pride at this point. The Maple Leafs want to be the team that hurts the Sabres chances at the playoffs but that might not be enough to beat a team that has shown throughout the season that it is better. This will be an interesting matchup and it would be an easier bet if the Sabres would've beaten the Maple Leafs on Sunday but on the NHL anything can happen.

Open an account for the best Sportsbook Parlay and Vegas Teaser Payouts in the Industry.