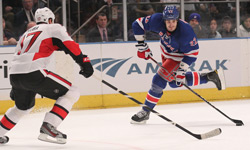 The first half of the Stanley Cup Finals has been set now that the Los Angeles Kings have won in the West. The New York Rangers and New Jersey Devils, however, still have some work to do in order to get into the Finals to take on the Kings. The Rangers are Devils are in a 2-2 stalemate in their current matchup. The series will be heading out to Madison Square Garden tonight.

The New Jersey Devils are feeling the momentum after a 4-1 home victory in their last game on Monday. The game showcased the frustrations of the Rangers to try and get ahead. This included a shouting match between the coaches for both teams and the Rangers' Mike Rupp poking at the Devils' Martin Brodeur during one critical point in the game. Start your NHL Betting action on Devils vs. Rangers game

There are no details from the Rangers with regards to whether or not Mats Zuccarello or Brandon Dubinsky will be returning to the series. Dubinsky, who had 34 points for the Rangers in the regular season, has been out since April 26. Brad Richards will also be going for a point in his fourth straight game. He has gotten an assist in each of his last three games.

The Devils' Ilya Kovalchuk was moved to the second line during Monday's win. Kovalchuk had an assist during that game. He only has one goal and one assist in this series compared with twelve total points in the rest of the playoffs. Zach Parise is also coming off of his best playoff performance this year. He had two goals, an assist and a plus/minus of +2 on Monday. He has six goals, six assists and a -1 plus/minus in the playoffs. Check the Sportsbook Odds for Devils vs. Rangers game.

The New York Rangers are the home ice favorites for the game with a -135 bet versus a +115 bet. The over/under for the game is 4.5. None of the games in the series have gone into overtime but there is a potential. The payout for bets stating that the game will reach an overtime period is +250.

Open an account for the best Sportsbook Parlay and Vegas Teaser Payouts in the Industry.