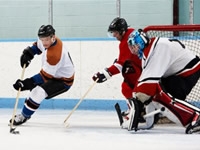 The setting changes from Beantown to the nations capital tonight as the Boston Bruins look to rebound figuratively and literally versus the Washington Capitals in game three of this NHL quarter finals series. The game can be seen on the NBC Sports Network beginning at 7:35ET.

No rebound was necessary in game two as a wrist shot by Niklaus Backstrom sailed past all star netminder Tim Thomas to even this series at one game a piece while shifting home ice advantage to Washington. The winning shot came in the second overtime period. Start your Hockey Betting action on Boston Bruins vs. Washington Capitals game.

Backstrom, who missed three months of the regular season due to a concussion, looms large for the Capitals in this series versus last years Stanley Cup Champs. Troy Brouwer, he of the 2010 Champion Chicago Blackhawks, now with the Capitals, opened the scoring late in the second period assisted by Alex Ovechkin and K. Alzner.

The Bruins came back midway through the third period on a goal by Benoit Pouliot helped by B. Rolstand and C. Kelly. Capitals goalie, Braden Holtby had an exceptional game stopping .977 percent of the Boston barrage of 44 shots on the net. Tim Thomas stopped 37 of the 39 he faced posting a respectable .949 save percentage.

Both goalies are excelling in this series, sharing the NHL playoff lead of just .083 goals against, with Holtby also having the best save percentage of .973. Jonathan Quick of the upset minded Los Angeles Kings is second at .965 and then Thomas reappears in third with .964. Check the Sportsbook Odds for Boston Bruins vs. Washington Capitals game.

This was, of course, the second defensive battle between these two units after game one was also sent to overtime at 0-0 until Bostons Kelly scored in the extra session for the 1-0 final in that one. You have to give Washington credit for holding down the Bruins who were one of the better scoring teams during the regular season.

Even off the exciting win by the Caps on Saturday, Boston has been installed as a road favorite at -$125, Washington is +$105. The moneyline is $110/$100 on the over/under of 5 total goals.

Open an account for the best Sportsbook Parlay and Vegas Teaser Payouts in the Industry.