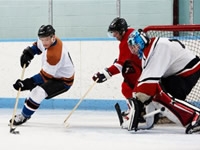 The St. Louis Blues and Phoenix Coyotes will be playing tonight at St. Louis' Scottrade Center. The game, which will be broadcast in the United States on the NBC Sports Network and on TSN2 in Canada, will be primarily for playoff positioning. The Blues have won all three of their past outings with the Coyotes. The most recent was a 4-0 shutout on March 25.

The 48-21-11 St. Louis Blues have clinched their division but they are two points behind Vancouver for the top spot in the West. The Blues need to win both their remaining games while the Canucks need to lose theirs so the Blues can have the top spot in the West.

Brian Elliott will be starting for the Blues tonight. Elliott is 23-9-4 with a 1.49 GAA and has won both of his games against Phoenix this year. He made twenty saves against the Coyotes in the 4-0 March 25 game. Start your Hockey Betting action on Phoenix Coyotes vs. St. Louis Blues game.

The Phoenix Coyotes are 40-27-13 and have clinched a spot in the playoffs. However, the Coyotes have a potential to move from eighth to seventh depending on what they and San Jose can do.

Mike Smith has been on a run as the goaltender for the Coyotes and will be looking to get his fourth shutout in a row tonight. Smith, who is 36-18-10 and has a 2.25 GAA, had 54 saves against Columbus in a 2-0 win on Tuesday night. He also had 44 saves against Anaheim on March 31 and 38 against San Jose on March 29. However, Smith has only faced the Blues once this year, giving up three goals against the team. Check the Online Sportsbook Odds for Phoenix Coyotes vs. St. Louis Blues game.

The St. Louis Blues' 30-5-5 home record appears to be a substantial influence in the betting line for the game. The Blues have a -165 moneyline bet for them while the Coyotes are at +145. There is also a +175 bet open for the Blues as -1.5 favorites with a -210 bet for the Coyotes to cover. The over/under on goals for the game is at 5. The Blues are favored but both teams will be in the hunt.

Open an account for the best Sportsbook Parlay and Vegas Teaser Payouts in the Industry.