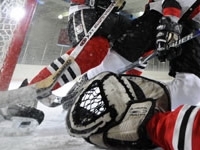 The New Jersey Devils and Florida Panthers will be playing tonight in the final game of their playoff series. Tonight's game will air in the United States on the NHL Network and will then be joined in progress on NBC Sports Network after the Ottawa-New York Rangers game ends. It is also on TSN in Canada.

The last game in this series was a 3-2 overtime win on Tuesday for the Devils. Tonight's game will be at the BankAtlantic Center in Sunrise, Florida. Start your Hockey Betting action on New Jersey Devils vs. Florida Panthers game.

The Devils will have plenty of pressure for this game in that it could potentially be Martin Brodeur's last game if they lose. The goalie will be a free agent this year and will be turning forty in early May. Brodeur is 3-2 in the playoffs this year with a 2.22 GAA.

Travis Zajac, who scored the game-winning goal for the Devils on Tuesday, has six points for the Devils. The Devils also have a penalty kill of a little around seventy percent. They have given up seven power play goals.

The Florida Panthers will be looking to win their first playoff series since 1996 tonight. Coach Kevin Dineen has not stated who will be starting in goal but it is known that Jose Theodore has been nursing a knee injury and his fate may not be decided until right before the game. Theodore had a thirty-save shutout in his last game on Saturday but he also gave up eight goals in the other three games he played in this series.

The Panthers have a stronger penalty kill with a 77% rating. They have given up five goals in this situation. However, the Panthers are getting six fewer shots on goal per game than what the Devils are getting. Check the Sportsbook Odds for New Jersey Devils vs. Florida Panthers game.

New Jersey is a very narrow favorite. The Devils are -120 favorites with the Panthers being at -110. There is a five goal over/under along with a large payout of +250 for bets stating that the Devils can win by at least one and a half goals in tonight's deciding game.

Open an account for the best Sportsbook Parlay and Vegas Teaser Payouts in the Industry.