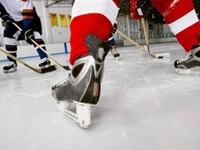 After a somewhat eye opening performance by the Los Angeles Kings in the desert in game one of this series, the Phoenix Coyotes must show great resolve in game two if they want to avoid a trip to Hollywood trailing by two games in this Western Conference NHL Finals. The puck drop is scheduled for 9:00ET at Jobing Arena in Glendale, AZ. and can be viewed nationally on the NBC Sports Network.

When this season started, who would have predicted a team from the desert and another not far from one, would be meeting for "all the apples" in the Western Conference of the NHL. Has anyone seen the Canucks, Blues or original six Blackhawks around here? These two teams also insure a coast to coast NHL Stanley Cup Championship as the victor will play the winner of the New Jersey/New York Eastern Conference final. Start your NHL Betting action on Kings vs. Coyotes game.

The Kings showed why they are here, by matching the skill of the Coyotes stride for stride in game one Sunday night emerging victorious 4-2. Dwight King had two goals, including an empty netter and Dustin Brown had an early third period goal which all but took the wind out of the Phoenix sails. Mikkel Boedker and Antoine Vermette netted goals for the losers.

One of the Coyote goals might be called a soft one, which is unusual for the Kings netminder, the aptly named Jonathan Quick. He has been steady as a rock these entire playoffs and is probably the main reason the Kings find themselves 3 wins away from that trip to the east coast in hopes of returning with Lord Stanleys Cup.

Quicks goaltending stats in the postseason are remarkable. In ten games played, he is 9-1 with a goals against average of 1.60, a save percentage of .947 with one shutout. That being said, Coyotes netminder, Mike Smith is right there, with an extra two games played, an 8-4 record, 1.87 GAA, and a .946 save percentage. Smith has two shutouts to his credit. Check the Sportsbook Odds for Devils vs. Rangers game.

Los Angeles is a road favorite tonight at -$125, while the home ice Coyotes are a +$105. The over / under has been set at 4.5 goals on a $130/$100 moneyline.

Open an account for the best Sportsbook Parlay and Vegas Teaser Payouts in the Industry.