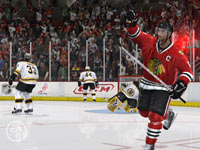 The Western Conference is the home of reigning Stanley Cup champions, but are
NHL betting odds
for or against the Los Angeles Kings repeating, or will the Chicago Blackhawks have a say in the matter? These two teams are very evenly matched on paper; both of them have won two championships in the past five years. They also have a score to settle. Chicago came very close to becoming the first team to repeat during the salary era cap; had they beat the Kings in the Conference Finals, they would have been odds on favorites versus the New York Rangers. In the end, Los Angeles prevailed, albeit by the skin of their teeth, and went on to defeat the Rangers.
As a matter of fact, the Kings have developed a knack for winning elimination games on the road; that means they can be trusted to deliver come crunch time. The Blackhawks are faster though not as tough as the Angelenos, and while the former are young, full of talent and with a deep roster, the latter boast a great balance between young and experienced players who excel at cycling the puck along the boards and behind the goaltender's net. All things considered, Chicago and Los Angeles are the strongest contenders to win not only the Western Conference but also the Stanley Cup.
That doesn't mean they are the only ones, though. The Anaheim Ducks and the St. Louis Blues also have what it takes to be contenders. The Ducks suffered a similar fate to that of the Blackhawks at the hands of the Kings, only earlier in the playoffs. Other than that the Southern California foes went toe to toe with each other. The Kings and Ducks series parallels the series between the Chicago and St. Louis in that the Blues started out strong but couldn't helped but succumb to the favorite team in the end. Then again, St. Louis has always struggled during the post-season despite strong showings during the regular season. If they manage to develop a big game mentality they might turn into a forced to be reckoned with.