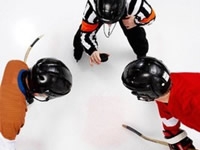 The Nashville Predators look to tie this NHL Western Conference semi final series tonight at two games apiece in this pivotal game four. The opening game puck drop is scheduled for 7:30ET in Nashville's Bridgestone Arena. The game can be seen on the NBC Sports network.

The Music City was singing a happy tune after the Preds emerged victorious 2-0 on Wednesday night after having dropped the opening pair of contests to the Coyotes in the desert of Arizona. The best of seven matchup now stands at 2-1 in Phoenix favor. Start your Hockey Betting action on Phoenix Coyotes vs. Nashville Predators game.

Game one was an overtime thriller with the Coyotes coming out on top 4-3, with Ray Whitney scoring the game winner. Game two was a more impressive outing for Phoenix as they scored early and often tallying five goals against the usually stingy Pekka Rinne to emerge victorious 5-3.

Nashville's win in game three was all the more impressive still, considering the Predators played without two of their top forwards who were suspended for at least game three. Apparently Alexander Radulov and Andrei Kostitsyn were enjoying the Scottsdale, Arizona nightlife a little bit too much when sighted at 4am prior to game two. Credit must be given to general manager Dave Poile and coach Barry Trotz for "sticking to their guns" and enforcing the teams rule violation at such a critical time.

Poile says it is Trotz call on whether or not they return tonight and he was apparently undecided after yesterdays (Thursday) practice. So stay tuned hockey fans! But back to the ice. Check the Sportsbook Odds for Phoenix Coyotes vs. Nashville Predators game.

Pekka Rinne pitched a shutout in the net for Nashville and the Preds beat the Coyotes 2-0 on Wednesday. Rinne saved all 32 shots sent his way and Nashville killed off four penalties and now Phoenix is just 1 for 9 on the power play in the first three games. Luckily for Phoenix, they also have a top netminder in Mike Smith who overall, still played well in the loss after giving up two quick goals in the first period.

The Predators have won three of four at home this postseason. Nashville is a home ice favorite posted at -$160, while Phoenix is +$140. The moneyline is $130/$100 on the over/under of 5 total goals.

Open an account for the best Sportsbook Parlay and Vegas Teaser Payouts in the Industry.