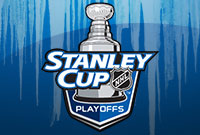 If the Washington capitals beat the Pittsburg Penguins tonight fans beting on hockey can expect to see this
Oprah meme
all over the internet (you get a game seven, you get an game seven, everybody gets a game 7! Well, 'cept you Islanders, sorry.) Last night we got treated to two very exciting series being taken to the final game on very evenly matched series.
Nashville Predators vs San Jose Sharks. May 12th, 8:00PM ET
After escaping the Anaheim Ducks in seven games, the Nashville Predators were regarded as lucky to be
in the second round
, and an early exit was predicted for them on our sports betting preview. However, the same resiliency they showed on the first round is still there. There was still enough gas in their tank to push the San Jose Sharks to another seven games and they did so coming from behind all series long refusing to die. Their game 6 Overtime win leaves the series wide open as they move to San Jose for the final game (déjà vu of the first round all over again).
The current line for betting on hockey for game 7 is:
Predators
+1½ (-225)
O/U: 5 (-115)
ML: +140
Sharks
-1½ (+185)
O/U: 5 (-105)
ML: -160
The Predators might be coming with some momentum, but the Sharks will not let them skate all over them. San Jose will move on in a very gritty game.
St Louis Blues vs Dallas Stars. May 11th, 8:00PM ET
When the St Louis Blues finally rained on
CM Punk
's parade, and knocked out the Chicago Blackhawks, they knew their quest for the Stanley Cup was just starting; especially when they were facing the Dallas Stars. However they managed to get within reach of the Conference Finals at home, in front of their fans, but the Dallas Stars pulled back and forced game 7. Here's were things are going to get interesting.
Dallas has a problem with Game 7s, they have not won one since 2000. The Blues, on the other hand defeated the defending Stanley Cup Champions on the road to reach the second round. In a way they might feel down a bit after losing game 6, but confident on their chances. The sports betting line for the crucial game is:
Blues
+1½ (-290)
O/U: 5 (-140)
ML: EV
Stars
-1½ (+245)
O/U: 5 (+120) ML: -120
The Stars definitely fought for their way back on game 6, although they showed so many defensive flaws that could cost them on Game 7. St Louis had the chance to close out the series at home, but they failed to pull the trigger, also they need to make sure their defense comes to play on the final game of the series as they gave away three goals at the worst possible timing. Betting on hockey fans are leaning towards the Blues to win the series, and they will. Dallas' defensive woes and the Blues being put in do or die mode will be the recipe for a ticket for the Conference Finals.