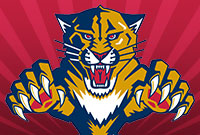 The Florida Panthers' NHL betting odds to win the 2016-2017 Stanley Cup currently stand at
+1825
, giving them about the best 10th odds to go all the way. And while the Tampa Bay Lightning have better odds (+1325), the Panthers are not going to let their neighbors get the upper hand just like that. The Panthers have redesigned their logo and uniform set, and while outwardly appearances do not win championships, that is just an indication of things to come. Florida won the Atlantic Division last season with a franchise record of 103 points. However, there is always room for improvement, especially if fans who bet on hockey consider that lost to the New York Islanders 4-2 in the first round of the playoffs.
Chairman Vincent Viola has already made several moves in order to make sure that the Panthers are Stanley Cup material as well as NHL betting contenders. For example, they signed defenseman Jason Demers to a 5-year, $22.5 million deal. Additionally, they have resigned restricted free agent Vincent Trocheck to a 6-year contract with an annual value of $4.75 million, and Reilly Smith to a 5-year deal with an average annual value of $5 million. Demers had 7 goals and 23 points in 62 regular season games and 3 points in 13 postseason games with the Dallas Stars in 2015–16. Trocheck had 25 goals and 53 points in 76 regular season games and 1 point in 2 postseason games in 2015–16. Smith had 25 goals and 50 points in 82 regular season games and 4 goals and 8 points in 6 postseason games in 2015–16.
Playoffs aside, last regular season was one of the best for the Panthers since 1996, when they lost the Stanley Cup Finals to the Colorado Avalanche. Florida has not won a postseason series ever since, but they have a group of young player who seem on the cusp of a major breakthrough, such as defenseman Aaron Ekblad and forwards Aleksander Barkov, Jonathan Huberdeau, and Nick Bjugstad, in addition to the aforementioned Trocheck and Smith. Furthermore, the Panthers have brought in outside reinforcements other than Demers. These include defenseman Keith Yandle from the New York Rangers, Mark Pysyk from the Buffalo Sabres. They did lose unrestricted free agent defenseman Brian Campbell to the Chicago Blackhawks, but "hopefully, with the additions on the blue line we can move the puck up quick to these skilled forwards," said Demers.
New general manager Tom Rowe has also added goaltender James Reimer from the San Jose Sharks to a group of goalies that includes veteran Robert Luongo and Reto Berra – whom Rowe traded Rocco Grimaldi to the Avalanche for. Unrestricted free agents Colton Sceviour and Jonathan Marchessault – both forwards – are also new to the fold. Like Tampa Bay, the Florida Panthers are ready to overcome the NHL betting odds and go on a serious run for the Stanley Cup championship like they did 20 years ago.