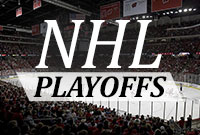 When we were writing our betting on hockey preview of the NHL playoffs at the beginning we picked the Detroit Red Wings to
beat the Tampa Bay Lightning in six games
… we were wrong. We figured that Tampa's struggles with injuries were going to be their downfall. Then, when we went back and checked on
the series
, we saw our mistake and picked the Lightning to handle Detroit. We predicted the outcome but, the Lightning did it in 5 games.
Then, during our betting on hockey preview of the second round, just after the Islanders have already taken game 1, we picked the Lightning to bounce back and win the series in dramatic fashion. Again, correct outcome, but a far more efficient Lightning team. Now, the Lightning are in the Eastern Conference Finals and are patiently awaiting for either the Capitals or Penguins. They are enjoying deeply the last laugh of being considered underdogs to struggle throughout the playoffs but qualifying for the next round before anybody else in the NHL. Case and point, the Lightning could be the front-runners for the Eastern Conference's spot in the Stanley Cup Finals.
Pointing out the Lightning as favorites could be very early right now, but feasible. On the other side of the fence the Capitals (overall favorites at the beginning of the playoffs) are currently on the brink of elimination by the Penguins, who in their own right have had a pretty good post season run. How either team could measure against Tampa Bay in terms of sports betting leaves a big question mark, because at this time, considering how they have played so far, Tampa appears to be a superior team.
Let's say
Pittsburg knock out the Capitals
. Initially the favorites would be the Lightning. On their head to head comparison throughout the regular season, Tampa Bay beat the Penguins every one of the three games they played, with one game at Tampa going to Overtime. The Penguins, despite eliminating the top seeded team in the East, will enter the series as underdogs.
The flipside to that scenario would be that the Capitals pull a comeback, and eliminate Pittsburg. During the regular season, the Capitals beat the Lightning the three times that they faced. This was, of course, when the Capitals were having a marvelous run and at the top of the NHL rankings. The Lightning, however, could be considered on being slight underdogs in a possible matchup against Washington. Betting on Hockey experts might give the Capitals favored status based on their previous encounters, more so than their current level of play. Then again, the Capitals might have had a much tougher rival in the Penguins, than the Lightning did against the Islanders.
The key factor coming into the Easter Conference Finals, is that the Penguins will want to avoid a game 7, not only to prevent a series closer in Washington, but in order to get an extra day of rest before meeting Tampa Bay. Washington, on the other hand don't have that possibility.
However, at this point in the playoffs,
betting on hockey
against the Lightning isn't a safe bet at all. Their performance on the ice and their resilience have proven to make them serious contenders for the Stanley Cup.