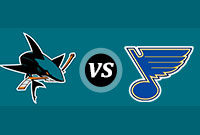 It's a little known fact of nature, but some sharks have to be constantly moving forward or else they die – that's why they keep swimming even in their sleep. This must be true when it comes to betting on hockey, because the San Jose Sharks as well, who beat the Nashville Predators 5-0 last night to win a notoriously even series – in which each team won all their home games – 4-3. Now the Sharks will go on to face the St. Louis Blues, who also went to seven games
against the Dallas Stars
– whom they defeated 6-1 in that 7th game – in the NHL playoffs Western
Conference Finals
.
For those betting on hockey who like to take a stroll down amnesia lane, the San Jose Sharks are making an appearance in the Western Conference Final for the first time since 2011. They have never made it to the Stanley Cup Final. The St. Louis Blues, who are in the conference final for the first time since 2001 – when they lost to the Colorado Avalanche in five games – have not advanced to the Final since 1970. They made the Final in each of their first three seasons in the NHL but were swept every time. The Blues and the Sharks have met four times in the NHL playoffs; both teams have won two series each, but the Blues won the most recent 4-1 in the 2012 conference quarterfinals.
And speaking of recently, the San Jose beat the St. Louis in two of three games of the regular season, including twice in St. Louis, as well as a loss at home. Sharks center Joe Thornton scored three goals and two assists against the Blues. Joel Pavelski and Marc-Edouard Vlasic each had three assists. Sharks goalkeeper Martin Jones was 2-1-0 with a 1.68 GAA and .937 save percentage. Blues defenseman Jay Bouwmeester and
Vladimir Tarasenko
each had three points. Goaltender Brian Elliot (1-1-0) allowed six goals on 84 shots, and Jake Allen stopped 15 of 17 shots in relief of Elliott in a 6-3 loss at Scottrade Center on February 22nd.
And for people who enjoy
sports betting on hockey
and like to keep track of statistics, Logan Couture has lead San Jose in the postseason with 7 goals and 10 assists, followed by Brent Burns with 4 goals and 11 assists, and Pavelski with 9 goals. Jones has started all 12 playoffs games (8-4, 2.16 goals-against average, .918 save percentage, one shutout). St. Louis's postseason leaders are Tarasenko with 7 goals and six assists, Robby Fabbri with 3 goals and 10 assists, David Backes with 6 goals and 6 assists, and Jaden Schwartz with 3 goals and 8 assists. Elliot has started all 14 postseason games (8-6, 2.29 GAA, .929 save percentage, one shutout).