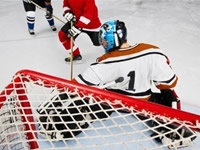 Its a matchup of Central Division rivals as Detroit dons their Red Wings to fly into the land of honky tonk to face off against the Nashville Predators. The puck drop is scheduled for 8:00ET and can be seen on CNBC.

The number 5 seeded Wings will be attempting to win a playoff series from number 4 Nashville for the third consecutive time. They did it in 6 games twice before, in 2004 and 2008. However, they possessed home ice advantage in those series.

This is also a different bunch from Nashville, not just from past years, but even earlier this season, before they made changes at the trade deadline designed to have them hoisting Lord Stanleys Cup when all is said and done. Those changes made by the Preds may have contributed to their wins on March 10, 2-1 in Nashville and the 4-1 win in Detroit against the Red Wings in the last game they played against each other on March 30. They split the overall season series 3-3. Start your Hockey Betting action on Detroit Red Wings vs. Nashville Predators game.

The Predators were more active at the trade deadline than any other team They brought in defenseman Hal Gill and center Paul Gaustad from Buffalo and Andrei Kostitsyn from Montreal. Then one time Pred, Alexander Radulov returned following a four year defection to the KHL. This group is added to the mix including two of the games best defensemen in Ryan Suter and Shea Weber. Then you have the goalie with the most wins (43), of any NHL goaltender this season in Pekka Rinne.

The Red Wings are not without star power of their own. How about the likes of Pavel Datsyuk, Henrik Zetterberg, Nik Lidstrom and Johan Franzen to get your attention. The Red Wings goalie, Jimmy Howard was no slouch either, although he did have some injury issues in the seasons second half that affected his performance and should be of some concern. Check the Online Sportsbook Odds for Detroit Red Wings vs. Nashville Predators game.

Nashville is favored in the opener at home at -$130, while Detroit is a +$110. The over/under carries a moneyline of -$140 and is set at 5 goals

Open an account for the best Sportsbook Parlay and Vegas Teaser Payouts in the Industry.