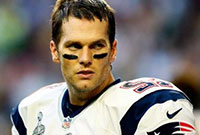 Coming as no surprise to the online football betting community, Tom Brady tore apart the Cleveland Browns secondary in his first game back after serving his
4-game suspension
. Brady and Patriots fans are eager to put the future Hall of Famer's second cheating scandal behind them as soon as possible, and what better way to do it then by pummeling what many consider to be the worst team in the NFL. Through the first 5 weeks of the season, the Browns are the only team that has yet to win a game. While a large part of that has to do with Cleveland's seemingly endless woes at the quarterback position, there's little the doubt the Browns would've ever been able to upset the Pats, regardless of who they had under center.
Either way, Tom Brady threw for 406 yards and 3 touchdowns in his first game back and fans can expect similar performances from Brady for the rest of the season. Brady may have started his revenge against the Browns, but there's plenty of chip still left on that shoulder. Up next in Brady's path of destruction are the Cincinnati Bengals, a team that entered 2016 with high expectations but has failed to deliver on every single one. Let's see what kind of chances most football betting sites are giving the aching Bengals in their contest against the New England Patriots.
Week 6 – Sunday the 16th of October
New England Patriots

-8 (-115)

47 (-110)

-520
Cincinnati Bengals

+8 (-105)

47 (-110)

+400
If you want some insight into exactly how poor the Bengals have appeared this season, just take a look at the online football betting odds they face in Week 6. There's no denying the Patriots are one of the best teams in the AFC, scratch that – the NFL, but seeing the reigning AFC North champions facing such staggering
odds
against the Pats is an undeniable symptom that the Bengals season has gone off the tracks. It seems that Marvin Lewis' coaching tenure with the Bengals is filled with inconsistencies – that and postseason losses. Bengals fans have almost gotten used to seeing their team make the playoffs, and then follow a good season with a pitiful one. It may still be early to scrap the Bengals' 2016 season, but one thing is for certain, they won't be winning this Sunday.
Against the Browns', Brady finished with a 127.7 passer rating and its likely Brady will put up similar numbers against the Bengals this weekend. Cincinnati's pass defense ranks as the 11th worst in the NFL, certainly not enough to stop a pissed off Brady. New England's running game has been one of the best in the league through the first 5 games of the season. With a solid running game backing up their passing game, and Brady still fuming over his suspension, the Bengals have an ice cube's chance in hell this Sunday against the Patriots. Picking New England over the Browns was an easy online football betting prediction, and picking the Pats over the Bengals might prove to be just as lucrative.