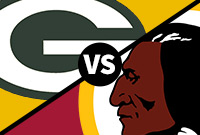 At the start of the season, it seemed that 2016 would have nothing but good things in store for the Green Bay Packers. But now that we're more than halfway through the season, it's clear that the opposite is true. Heading into Week 11, the Packers have a losing record, are ranked 3rd in the division, are on a 3 game losing streak, and currently have a -4 turnover ratio. It's certainly been a rollercoaster and the difference between what the sportsbook projected for the Packers and what they accomplished is only comparable to the gaping difference between what the polls projected for Hillary Clinton, and what the results at the booths actually were. The Packers' season has been disappointing for the coaches, players, and fans but there's still time for Green Bay to prove themselves worthy of your
bet on NFL money lines
. Unfortunately, no one with a sound mind would pick them in their next contest.
NFL Odds – Week 11 – Sunday, November 20th
Green Bay Packers

+2½ (-105)

50 (-110)
Washington Redskins

-2½ (-115)

50 (-110)
Of course, as any bookie with a brain would've done,
the sportsbook
s are painting the Packers as the underdogs this Sunday night. The contest between the Redskins and the Packers will be Week 11's version of Sunday Night Football. From what we've seen from both teams this season, it's uncertain whether or not either team deserves the primetime spot. Washington delivered one of 2016's dullest contests when they tied against the Bengals earlier this season, while the Packers' entire season has been one giant disappointment.
Not only will the Packers be coming into Sunday's game on a 4-game losing streak, they'll be coming off of one of the most humbling losses of Mike McCarthy's head coaching career. The Titans had their way with Green Bay's defense, racking up an astounding 164 yards on the ground as well as 284 yards through the air. The Packers' defense failed to make plays, and Green Bay's offense failed to keep up with their opponent. In Washington, they'll face a much tougher, stronger offensive unit. Is another blowout loss in store for Green Bay?
The sportsbook are predicting another loss for the Packers, but with a 3-point spread, they aren't exactly predicting a blowout. But looking over Washington's numbers, it wouldn't be surprising to see the Redskins blowout the Pack. With their
loss to the Titans
now accounted for, Green Bay is giving up the 24th most points per game in the league. The Redskins are only scoring 23.6 points per game, but considering that they have the 3rd best passing offense, and the 4th best total offense, Washington should have no problem finding the end zone this Sunday night.