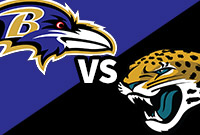 The Baltimore Ravens will visit the Jacksonville Jaguars as the
online football betting
favorites on Sunday, September 25th at the EverBank Field. These are the odds for people looking to place one or two online football bets:
Ravens PK (-110) 47½ (-110)
Jaguars PK (-110) 47½ (-110)
The Ravens came back from a 20-point deficit to beat the Cleveland Browns 25-20 in week 2 to improve their record to 2-0. Baltimore was one point away from being three TDs behind in the first quarter before defensive end Lawrence Guy blocked an extra point and rookie CB Tavon Young returned it for two points. Starting QB Joe 'Cool' Flacco went 25 of 45 for 302 yards, including two touchdown passes to wide receiver Mike Wallace. Additionally, kicker Justin Tucker made three field goals (the last of which he converted with 2:56 left on the clock) to weather the Browns' final barrage. The Ravens scored 25 unanswered points and held their collective breaths when linebacker C.J. Mosley picked off Browns quarterback Josh McCown at the goal line with 13 seconds to go.
Meanwhile, the Jaguars started 0-2 for the fourth time in the last five years when they succumbed to the San Diego Chargers 14-38. The Jags went beyond the midfield only six times and had three turnovers. Jacksonville took a literal beating as well as a figurative one, as offensive tackle was carted off the gridiron with a concussion, defensive end Jared Odrick hurt an elbow on the opening drive, wide receiver Arrelious Benn sustained a cut on the Jaguars' first possession, and defensive tackle Roy Miller hurt his left hand. So one could see how the online football betting
odds would favor the Ravens
, but let's by all means explore the issue further.
There are two ways of looking at the Ravens' comeback against the Browns – the second-biggest in the history of the franchise. As
ESPN Staff Writer Jamison Hensley
put it, Baltimore's "slow-out-of-the-gate performance might cut it against the rebuilding Browns" but "might not even be good enough next Sunday against the Jacksonville Jaguars." Or as Flacco said, "it wasn't pretty. We weren't perfect. We weren't great… but every single game in January and come February… is going to be like that." Also, head coach John Harbaugh commended the players because "nobody cracked. Nobody panicked. Nobody pointed their finger."
As for the Jaguars, they regressed from their week 1 performance versus the Green Bay Packers, and regressing from a loss is like trying to borrow a dollar, getting turned down, and asking for fifty grand instead. Mixed metaphors aside, former Jaguars QB Mark Brunnell pointed out how the Jags had trouble facing Philip Rivers "one of the best (QBs) in the game" though he hasn't won a Super Bowl. As online football fans are very well of, Joe Flacco is also among the best and has won a Super Bowl. All things considered, this one could be pretty close, but the Ravens should have their first 3-0 start since 2009.