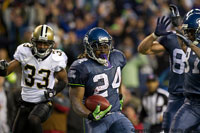 Sports bettors had been big fans of the New Orleans Saints over the years. However, there are legitimate concerns over whether or not the Saints' days of dominance are about to come to an end.
There are plenty of signs that suggest that the Saints may not be too competitive in the future:
Sportsbooks have not been all that favorable to the Saints in recent time. The Saints have +5000 odds to win Super Bowl 50, for instance.

Quarterback Drew Brees has been dealing with consistent injury issues in the last few seasons. Also, while he has led the NFL in passing yards in three of the last five seasons, he is getting much older in age at 36 this year.

Coach Sean Payton has been under plenty of scrutiny ever since being suspended for a season following a scandal involving bounty bonuses for defensive players. The team missed the playoffs last year and there are plenty of stories of disconnect between Payton and many of the newer players on the team.

The team may also be trying to build towards the future above all else. This can be seen through the team's decision to trade Jimmy Graham to Seattle for a high-end draft pick. Graham had been one of Brees' most popular targets and had been a leader for touchdowns in recent time.

The running back situation for the Saints has also been a real concern. Mark Ingram is not necessarily as proven as many people had hoped while C.J. Spiller has been relegated to being a backup as his days from Buffalo when he was the team's big starter have been far off in his history.

There is also a concern over how well the Saints' special teams will run. Rookie kicker Zach Hocker is not a fully tested player; the fact that the NFL's extra points are further back than they were in the past is a big point that could influence his production and could negatively influence what happens in some closer games.
Whether or not the New Orleans Saints can turn things around and be a better team for the 2015 NFL season is unclear. Brees' injury problems and concerns over the turnover experienced on the team's roster have made it to where it will be rather hard for they could really compete. This is a big point that has made it to where it will be harder for the team to really compete on the sportsbooks.