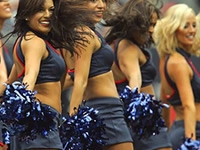 All of the talk is over with and now the final curtain will be drawn on the NFL season. 2012 Super Bowl a rematch of SB XLII of which the Giants posted a huge upset. Vegas has this currently at Giants minus three points with the O/U set at 55 points. A lot is riding on this game as the Giants are looking to prove that 2008 was no fluke. Giants quarterback Eli Manning is looking to go ahead in the family sweepstakes by trying to net his second NFL championship. Eli's brother, Peyton Manning won Super Bowl XLI and the MVP in that game, as did Eli in his Super Bowl win.
The Giants are looking to bring its air attack against the Patriots who are led by veteran gunslinger Tom Brady. Brady is no stranger to post-season accolades as he led the Patriots to two super bowl championships in the 1990s. Tom Brady has had a phenomenal year behind center as the Patriots look to lock up their third championship after losing in their first trip in 1986 to the Bears 46-10. With these two air specialists, look for a high-scoring ball game as the defenses are going to have their hands full keeping tabs on long passes. Check the XLVI Super Bowl Odds.
In many ways, this championship game and season are very reminiscent of the 2008 season and matchup between these two teams. The Giants are still underdogs, but not by much compared to their 2008 showdown. With Eli Manning looking to bring prominence and prestige to the Big Apple and Tom Brady looking to cap a record season for him, this game has all the makings of another classic on par with their last big showdown. With all of this going on, it should be a great game for all involved and may the best team win.
Open an Account for the best Sportsbook Parlay and Vegas Teaser Payouts in the Industry.