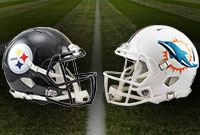 Once in a while the sportsbooks make a prediction that actually comes into fruition. In the case of the AFC North futures, most football betting sites had the Pittsburgh Steelers pegged as the eventual champions of the North before the season even began and that's exactly how things unfolded. In addition, the Steelers came into the season with the 4th best odds of winning this year's Super Bowl. This upcoming weekend, Pittsburgh will be able to come one step closer to fulfilling another
sportsbook
prediction.
In the first round of the playoffs, the Pittsburgh Steelers will have to face the Miami Dolphins in the AFC's second Wild Card playoff game. Because this game will mark the second Wild Card contest it will be played on Sunday. Unlike the Steelers, who punched their ticket to the postseason by winning their respective division, the Dolphins were able to earn a spot in the playoffs by earning the AFC's 6th seed. Since the Steelers are the higher seed they'll be enjoying home field advantage this upcoming weekend. Let's see which team the
odds
are backing to advance their Super Bowl journey.
NFL Odds – AFC Wild Card – Sunday, January 8th (Full Limits Available on Game Day)
Pittsburgh Steelers -10 (-105)

47 (-110)

-435
Miami Dolphins

+10 (-115)

47 (-110)

+350
Out of all 8 teams playing this weekend, the Pittsburgh Steelers have the best odds of the lot. Painted as a 10-point underdog on the spread line, the sportsbooks truly don't think that the Dolphins have a chance this upcoming Sunday. Which is a bit surprising considering the Dolphins finished the season with a 10-6 record and actually beat the Steelers when they faced them early in the season 30-15. However, after winning 7-straight games it's safe to say that Pittsburgh is one of the hottest teams that are heading into the postseason.
A 7-game win streak is an extraordinary feat, but when taking a closer look at the teams the Steelers faced it's clear that they were anything but challenging. Two of those 7 wins came against the Cleveland Brown, the team that was flirting with 0-16 for the entire season. Another two of those wins came against sub.500 teams; the Colts and the Bengals. In fact, only one of those 7 contests were against a playoff team and even though the Steelers won the game against the Giants 24-14, it still doesn't intensify those 6 other games. Winning 7-straight games is impressive don't get it wrong, but there's no doubt that the Steelers will be facing much tougher opposition on their way to the Super Bowl.
Looking over both these teams' numbers it's clear that the Steelers have the upper hand. Thanks to Roethlisberger's efforts, Pittsburgh has the NFL's 5th best passing offense. This should be a good matchup against the Dolphins' 15th ranked passing defense. Additionally, Miami has the 30th worst rushing defense in the NFL, which is certainly putting a smile on Le'Veon Bell's face. Before the season started Bell was adamant about wanting a
large contract
and a big performance in a playoff game will certainly ease his case. Considering how poor Miami's run defense is, it wouldn't be surprising at all to see Bell tear up the Dolphins at a cold and frigid Heinz Field.