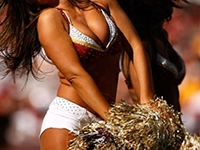 The Green Bay Packers have not played the New York Jets too often. Their last match came in 2010 when the Packers shut out the Jets 9-0. The Packers will be hosting the Jets at Lambeau Field this Sunday. Let's take a look at the current SBG betting odds for the matchup.
The last game between these two was a 9-0 Packer victory in 2010 when the Packers were listed at +6.5. This game snapped a three-game winning streak for the Jets in the series. However, the two teams have changed dramatically and Geno Smith is the new quarterback for the Jets at this moment.
The Packers lost their first game of the season 36-16 to the Seattle Seahawks. The Packers were listed down at +4.5. The Packers have won six of their last ten games in the straight up and ATS categories. The Packers have also gone over the point total in their last five September games. Still, they have won ATS in only one of their last six September games.
Running back Eddie Lacy is expected to play for the Packers. He left with a concussion during last week's game but has been cleared to play for this coming game. Linebacker Brad Jones is questionable with a thigh injury.
The New York Jets have also won six of the last ten straight up games. Their last one was a 19-14 win this past weekend over the Oakland Raiders in a game that featured the Jets with a -6.5 line. The Jets have lost ATS in their last three games. The Jets have also gone 1-5 ATS in their last few road games when going against teams with losing home records. There are no significant injury reports for the Jets at this time.
The Green Bay Packers are heavily favored by our sportsbook to win this game. The Packers are listed at -8 to win this game. The over/under for the game is at 46 points to be scored. The Packers have a -400 line for the moneyline bet while the Jets are listed at +350.