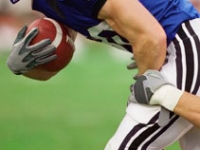 With the 2014 NFL regular season approaching and preseason underway, let's take a look at the reigning Super Bowl champions, the Seattle Seahawks. In particular, let's examine the wide receiver position previews for 2014.
The Wide Receivers are the group of players (more than other groups) that display how Coach Carroll and General Manager Schneider built the Seattle Seahawks into Super Bowl Champions. The WR group appears to have some high draft picks, with this year's first selection Paul Richardson. He will be seeking his place on the starting roster. However, their most flashy acquisition comes via an offseason trade in 2013. The Hawks acquired Percy Harvin, who was injured for most of 2013, but is now working to make his place on the roster.
The group is led by Kearse and Baldwin who were both free agents that were undrafted. Amazingly, they worked their way onto the roster and both played in the Seahawks Super Bowl run in 2013. The receiver spots will be a heated subject through this preseason, with all vying for one of the six positions on the roster. Four of them appear to have a lock to be on the opening day roster, with a few players than will be competing for at most two other slots.
The roster locks start with Doug Baldwin who has had three seasons with the Seahawks. During that period, he went from a long shot to a very emotional leader and one of the most consistent players. He was a rookie out of Stanford who had a decent year in 2011, had an injury plagued year in 2012, then in 2013 had a good season with some 50 receptions, 5 TD's while gaining 778 yards. This was very similar to his rookie year 2011. His talent and leadership encouraged GM Schneider to give Baldwin a three year contract extension for $13 million in May 2014 to ensure he will be playing for Seahawks in future years.
The next roster lock is Percy Harvin out of the University of Florida who was acquired in 2013, as GM Schneider traded several draft picks to the Vikings for Harvin. He played one regular season game in 2013, made one reception for 17 yards, then suffered a hip injury that required surgery. He missed the bulk of 2013. However, he came back to play in Seattle's first playoff game with the Saints and left that game with a concussion. He returned to the roster for the Super Bowl and carried the ball two times in 1st half for 45 yards, then returned the second half kickoff some 87 yards for a TD. If Harvin stays healthy he gives the Seattle offense another element of game breaking plays. His 2012 rookie season was with the practice squad in part and with the active roster. With a strong 2013 preseason, he earned a place on the active roster for 2013. In 2013 his numbers were nothing to brag about with 4 TD's on 22 catches for some 346 yards. But he had some big game catches that made the difference, including a leaping catch on a 35 yard TD that put Seattle ahead for good in the NFC Title game against the 49ers.
Then the Seahawks have four hopefuls in Phil Bates of Ohio in his third year. His performance in the preseason will dictate his future.
The fourth year Ricardo Lockette of Fort Valley State split the last 3 seasons with the 49ers and Seahawks. He has speed and has proven to be a devastating special teams player. He should make the final team roster.
Next is Kefin Norwood a rookie from Alabama and who was Seattle's 2nd pick in the fourth round of 2014 draft. He had a great career at Bama, won't amaze anyone with his speed, but has a real knack for getting open and strong hands for challenging plays. He suffered an injury that has consumed most of this preseason, but he should be back to compete for a spot before training camp ends.
Finally, fifth year Bryan Walters of Cornell, who has been a favorite of Coach Carroll's and a very strong practice player after he signed with Seattle in 2012. More than likely he will make the team primarily on the special teams unit.