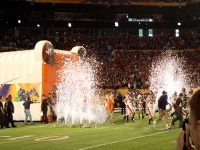 This past Sunday, the 21st of December, 2014, in Week 16 of the NFL regular season, we saw the Seattle Seahawks now 11-4 (1st NFC West) travel to the Arizona Cardinals now 11-4 (1st NFC West). The game was played at the U. of Phoenix Stadium, in Glendale, Arizona. This was the Sunday night game at 8:30 PM ET, and was televised on NBC. Let's recap the football betting action for this matchup.
What's amazing is the team standings after this week 16 as the Patriots are 12-3, Broncos 11-3, Cowboys 11-4, Lions 11-4, Packers 11-4, Seahawks 11-4 and the Cardinals are 11-4, which should make for some interesting games in the final Wk 17 this coming weekend.
In the Seahawks win, they accumulated 596 yards offensively in their rout of the Cardinals, which is a franchise record. The Seahawks scored 14 point in the second quarter, and 21 points in the 4th quarter, while the Cardinals were only able to score a FG for 3 points in the 2nd quarter, and a FG for 3 points in the 3rd quarter, with the final score Seattle 35 and Arizona 6!
So finally the Seahawks broke out their high scoring offense as their QB Wilson rushed for 1 touchdown on 88 yards and passed for 339 yards, TE Wilson has touchdowns and 139 yards on receptions. So with the win Seattle is now tied in the NFC West with the Cardinals, and they maintain the tiebreaker, since they have 2 wins over Arizona.
For the Cardinals this is the type of game that they don't enjoy talking about, as nothing seemed to go in the right direction for Arizona in the game, in their 1st loss at home this 2014 season and on national TV. The Arizona defense struggled under the direction of QB Lindey, in his 1st start since back in 2012 and the Cardinals offense did not score a TD for the 2nd consecutive game, and their FG kicker missed 3 FGs Now the only way the Cardinals can win this division is if the Seahawks lose to the Rams next Sunday, and Arizona wins a San Francisco next week. If that does not happen then the Cardinal will take a wild card spot, and have their 1st round game on the road. Had they beat the Seahawks in this game, they would have clinched the No. 1 spot in the conference.
Football fans who bet on NFL at an SBG Global or other online sportsbooks, get ready for the last week of 2014 NFL regular season games. The 11-4 Seahawks play at home on the 28th of Dec. against the 6-9 St. Louis Rams (4th NFC West) at 4:25 PM ET and on Fox TV. The 11-4 Cardinals play at the San Francisco 49ers also on the 28th of Dec. 2014 at 4:25 PM ET and on Fox TV.