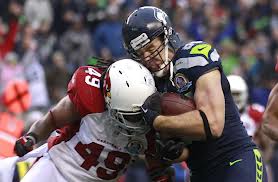 On Sunday, the 1st of February, 2015, most of the world will be watching Super Bowl XLIX. The big game will be played at the University of Phoenix Stadium in Glendale, Arizona, with a kickoff time of 6:35 PM ET. You can watch all the action on NBC TV. Currently, with the Patriots are favored at -1 with O/U 47 ½ and -120 ML.
With the Seahawks seeking their 2nd consecutive Super Bowl ring, there is ono Seattle player who has his eyes on a second ring, and he hasn't played in on game play to date.
That's none other than 3rd string QB B.J. Daniels who thus far has scored a TD in a preseason game. He at this point in his career is in the same category as Marino, Tarkenton, moon and Kelly who are all quarterbacks who haven't won a Super Bowl. He has never won a Super Bowl but he does have a Super Bowl ring and if Seattle wins this one, he will have two.
In 2013 during the draft, he was selected in the 7th round out of South Florida University by the 49ers, but then was released in his rookie year, and then taken in by Seattle, and since then has been a regular in the rotation with QBs Wilson and Jackson. So far he hasn't played in a game and does not dress out for the games. The native of Tallahassee, Florida was picked last week by Coach Carroll to be on the 53 man game roster, a decision Carroll made in rewarding Daniels for working his butt off in practices.
Yes, he's a third string QB, but in this week prior to the Super Bowl, the Seahawks will try him on the special teams, and he can play running back, wider receiver and he can bring new life to the Seattle roster. He's a player that has learned the importance of attitude, as while at USF as a redshirt freshman, he made his 1st appearance in a road game against FSU, after their senior QB left the game with an injury. The USF beat 17th ranked FSU at the time, thus Daniels became the Bulls QB for 3 ½ seasons until he broke his ankle in his senior year in November.
Thus far he is pleased, as he has played in 2 preseason games as 3rd string QB and made 6 touchdowns passing with no interceptions and he is prepared to play whenever asked. Daniels says, "I understand my role with Seattle thoroughly, and that's why I can enjoy it." He tries not to compare myself with anyone, but likes to look at players like Green Bay's QB Rodgers who it took 4 years to get starting role with the Packers. Of course as a competitor all want to be on the field playing, but he won't complain as he has Super Bowl ring and going for his 2nd it this Super Bowl XLIX.
So if you're a fan who will bet on NFL at a sportsbook, it may be interesting to watch and see B.J. Daniels gets an opportunity to get in on the game action in the Super Bowl, as he's certainly a well deserving member of Seattle's roster now.