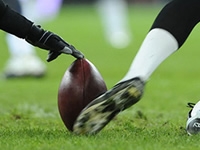 Even though both the 49ers and the Rams currently have the same win-loss record three games into the 2013 NFL season, the roles are clearly assigned, at least for this Thursday's game. San Francisco will enter the field as the favorite, while St. Louis will be the underdog, and that's how they are being perceived by the NFL betting connoisseurs.
The 49ers have lost two games so far, but their one victory was against the Green Bay Packers with a score of 34-28. They weren't able to keep it up, losing two consecutive games against the Seahawks and the Colts. Still, the Rams represent a great opportunity to get back on track and start scoring more than 7 points again, even if St Louis managed to place Robert Quinn as NFC's defensive player of the week (week 1).
The Rams, on the other hand, also started the season with a win followed by two losses, and their one win was at home. In spite of that, the fact that Thursday's game will be played at Edward Jones Dome will most probably have no bearing at all on the final outcome. As a matter of fact, the only reason that the NFL betting spread is no more than 3.5 favoring the 49ers has to do more with San Francisco's underwhelming start of the season than with St. Louis' shortcomings. Part of this disappointing beginning for the 49ers may be due to Colin Kaepernick not seeming to live up to his breakthrough sophomore season, which was filled with early career milestones. However, he did throw the first 400-yard game by a 49er quarterback since 2004, when Tim Rattay accomplished a similar feat.
The bottom line here is that San Francisco made it all the way to the Superbowl next year, and even if they fell short against the Ravens (who were ironically under the tutelage of San Fran's coach Jim Harbaugh's brother John), they are still a force to be reckoned with, both on the field and as far as Football betting is concerned. Moreover, Kaepernick could always steal the game at any moment. The 49ers need to right the ship before it's too late, and the Rams are almost certain to end up being the sacrificial lambs.