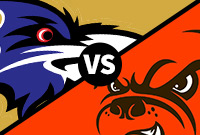 The Cleveland Browns are in the midst of a historic season, and the next stop will be the Baltimore Ravens on Thursday, November 10th. Here are the online
NFL betting odds
for the game at M&T Bank Stadium:
Browns

+7½ (-110)

44 (-105)
Ravens

-7½ (-110)

44 (-115)
The Browns (0-9) lost 35-10 to the Dallas Cowboys on Sunday, and in the process secured a losing record for the ninth straight season and set a franchise record 12 straight losses dating back to their last three games of the 2015 season. The Browns are the first team since to allow at least 25 points in their first nine games since the 1964 Denver Broncos. At this point, one would not be surprised to learn that Hue Jackson is coaching the Browns wrong as some sort of elaborate prank. Cleveland gained only 28 total yards in the second half. Cody Kessler started under center and threw 19 of 27 for 203 yards with one TD pass to Terrelle Pryor. More importantly, he survived the game in one piece. And he has the X-rays tests to prove it.
The Ravens (4-4) saw a four-game losing streak come to an end with a 21-14 win over the Pittsburgh Steelers on Sunday. Baltimore QB Joe Flacco finished 18 of 30 for 241 yards with one 95-yard scoring pass to Mike Wallace. Baltimore was ahead 10-0 at halftime and 13-0 in the fourth quarter before running back Javorius Allen blocked a punt and wide receiver Chris Moore took it 14 yards for a touchdown and a 21-0 lead with 13:36 left.
Kessler was hit hard and often against the Cowboys but says he is fine and will start versus the Ravens. The rookie and the rest of the Browns are just one defeat away from setting the team record for the worst start ever, and all their efforts are now directed toward avoiding a 0-16 record. "We're not going to go 0-16," linebacker Christian Kirksey said following the loss to Dallas, but then he also said they would go 8-0 the rest of the season, so an online NFL betting guru he isn't. He won't be landing a gig on a football betting site any time soon. The 2008 Detroit Lions are the only NFL team to have a winless season. Cleveland upgraded its defense with former Patriots LB Jamie Collins, but the Browns still lost to Dallas by their largest margin of defeat since a 37-3 loss to the Cincinnati Bengals on December 6th, 2015.
As for the Ravens, they had not won in 45 days, but their win over the Steelers was enough to propel them to the top of the AFC North division – even if Baltimore does not look like a postseason team yet. The Ravens rank 25th in the league in points per game (19.2) and are tied in third place for the most penalties. In addition to that, starting QB Joe Flacco has struggled with consistency. Flacco is 207 of 338 (61.2%) for 2078 yards with six TDs and seven interceptions, and a 76.0 passer rating. Still, that should be good enough to pick up a win against the Browns at Mountebank Stadium and perhaps even cover the online NFL betting spread.