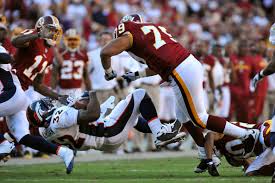 This past Monday Night Football highlighted the Browns of Cleveland playing the Redskins of Washington in Washington. The Browns were hoping for a winner in this game between their quarterbacks competing for the starting job.
Unfortunately the game was not a winner for the Browns as they lost 23-24 and their progress was questionable. The Coach Pettine was not very pleased and said some very difficult decisions are in the near future, but all options are still on the table. The coach for over a month had said he was going to name a starter each week, but then he did not enjoy what he experienced at Washington against the Skins.
What was most disturbing was that neither of the quarterbacks, Manziel or Hoyer, were able to make progress with the first team offensive unit as they were alternated during the first half of the game. In the first three series they had the ball but were three and out each time.
For Hoyer it was very disappointing as on his first two drives he got sacked, the team was penalized, and they made neither pass completions nor first downs. For Manziel, his series were somewhat different, as on his second series he had 11 plays for 60 yards and then had to punt the ball away. In the first half, he threw for 29 yards completing 2 of 7 passes. He returned in the fourth quarter and managed a handoff for 8 yards and a TD by Dion Lewis. In the full game, Manziel was 7 for 16 for 65 yards.
The Browns receivers are struggling as they have not been helpful in dropping more passes than catching. In the second half of the game Manziel expressed himself as he gave the middle finger to the Washington Redskins players and coaches on the sideline.
After the second drive for QB Hoyer he appeared to be injured, but went back into the game in the 2nd quarter. On that series they had a dropped pass, a 4 yard run and then Hoyer was not able to complete two attempts on end zone throws so they scored a field goal to make it 3-0 Browns. He had another opportunity that was lost when WR Gray fumbled as he strived for extra yardage on Hoyer's first completion of the game.
The preseason recap of Hoyer is that in his six preseason game drives he led the Browns to three field goals, has made no third down conversions on seven attempts and completed 6 of 22 passes this preseason for some 108 yards in total. Hoyer came into the preseason as the No. 1 QB and things are not looking good for Hoyer.
For Manziel, he's had three weeks of training camp and now a go around in a preseason game with the 1st unit but he still has not won the starting position. So Coach Pettine still has some difficult decisions before the regular season begins.