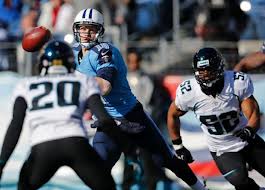 This week, for NFL Week 8, we will preview a couple of games, where the teams have the talent, but just can't seem to get it together. The first game in the category is the Saint Louis Rams 2-4 (4th NFC West) playing at the Kansas City Chiefs 3-3 (3rd AFC West), at Arrowhead Stadium in Kansas City, Mo., with game time at 1 PM ET and television coverage on Fox TV. The Chiefs are favored in the game at -7 (-105) with O/U 41 and ML on Chiefs -320, comeback +260 for the Rams.
Leading the offense for the Chiefs are QB Smith, who to date has completed 119 of 186 passes for 1,270 yards and 9 touchdowns. RB Davis with 83 carries for 352 yards and 3 touchdowns, with Receiver Kelce having 24 receptions for 307 yards and 3 touchdowns.
Offensive leaders for the Rams are QB Davis with 136 completions for 206 passes for 1.517 yards and 9 touchdowns. RB Stacy with 61 carries for 240 yards and 1 TD, while Receiver Quick has 24 receptions for 365 yards and 3 touchdowns.
The Chiefs were a very hot team that cooled off, and now hope to move forward again, after a difficult 5 point loss to the 49'ers and dropped below .500 at 3-3 with the 22-17, but then came back last, week beating the Chargers 23-20 in San Diego.
The Saint Louis Rams had two similar past weeks, as they lost to the 49'ers at home on the 13th of October 31-14 then surprised the reigning Champions Seahawks as the Rams won the game 28-26 on their home field in Missouri.
The team record for the Rams is 2-4 SU (Straight Up), 2-4 ATS (Against the Spread). They are 2-5 ATS and 2-5 SU in last 7 games. The Rams total has went Over 4 in the last 5 games and are 1-4 ATS in last 5 road games.
The Chiefs record is 3-3 SU, 4-2 ATS and they are 4-1 ATS in their last 5 games, and 3-6 SU in last 9 games. Their total has been under in 4 of last 6 games, while they are 1-6 ATS in last 7 home games.
The next game for the Saint Louis Rams is at the San Francisco 49'ers on the 2nd of Nov. 2014. The Chiefs also play their next game on the 2nd of Nov. at home playing the New York Jets.
---
The second game in review is the Miami Dolphins now 3-3 (3rd AFC East) playing at the Jacksonville Jaguars 1-6 (4th in AFC South) with the game played at EverBank Field in Jacksonville, Florida at 1PM ET on CBS TV, with the Dolphins the early favorites at -6 with Ov/Um 43 and ML -225 for Miami and come back at +215 on Jaguars.
This season the Dolphins defense may just be one of the best in the NFL, and if their offense picks up, they easily could move above .500 in this game, for their 1st time in 2014. Actually, their defense is ranked this week as 4th in the NFL. This past Sunday, the Miami team was impressive with their win over the Chicago Bears 27-14. Defensively, they held the Bears to 224 yards total offense and only 52 rushing yards.
On the other side the 1-6 Jaguars have made many mistakes in 2014, but were still able to defeat the Cleveland Browns last weekend 24-6 with some very impressive defensive play. Their defense held the Browns to 266 yards and allowed only 556 yards in their past 2 games, as they had 6 sacks, which makes in 22 for 2014. That's certainly improving defensively, as in their first 5 games they allowed 435.4 yards per game.
Offensive leaders to date for the Jaguars are QB Bortles completing 114 of 174 passes for 1.163 yards with 5 touchdowns. RB Robinson with 50 carries for 221 yards and 1 TD, while Receiver Robinson had 34 receptions for 371 yards and also 1 TD. The Jaguars team record is 1-6 SU, 2-5 ATS, while in last 10 games they are 2-7-1 ATS, and 1-9 SU. In their last 11 home games they are 2-8-1 ATS, and 2-11 SU for last 13 home games.
The Dolphin offensive leaders are QB Tannehill with 138 completions of 218 passes for 1,423 yards and 10 touchdowns. RB Miller had 81 carries for 391 yards and 4 touchdowns, while Receiver Wallace had 30 receptions for 359 yards and 5 touchdowns. The Dolphins team record is 3-3 SU, 3-3 ATS with the total going over in 4 of their last 6 games. Miami in last 6 road games is 4-2 ATS and 4-2 SU, with the total going under in 4 of their last 6 road games.
Sports fans who bet on NFL at SBG Global or similar sites, for your information the Dolphins next week play the San Diego Chargers in Miami, which should be a great game. The next game for the Jaguars is at the Cincinnati Bengals and also is on the 2nd of Nov. 2014.