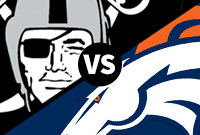 After losing two straight games following their Bye Week, the Denver Broncos have rediscovered their old groove. Two straight wins against the Texans and Chargers was all it took for the top sportsbooks to start favoring the Broncos once more. Just in time because in Week 9 the Broncos will be playing one of the most important games of the season. Right now Denver finds themselves in second place within the AFC West. Although the Broncos record is essentially unblemished, their
loss against the Chargers
puts the Oakland Raiders ahead of them in the division. This Sunday, both teams will duke it out to see who the true champion within the West is. Let's see what the NFL betting odds have to say about this critical game.
NFL Odds – Week 9 – Sunday, November 6th
Denver Broncos

+1½ (-110) 44 (-110)

+105
Oakland Raiders

-1½ (-110) 44 (-110)

-125
It's not too often that you see the
top sportsbook
s putting together Pick 'em odds, but it just goes to show you how competitive this contest is shaping up to be. The Oakland Raiders are a team hell-bent on defying expectations. In the NFL there are two things teams usually associate with success; establishing the run and having a great defense. Oakland has an elite rushing offense, but their defense is so pitiable that it truly is mind-boggling trying to figure out how the Raiders are consistently winning. Oakland has the 31st worst total defense in the league, made up of the 28th worst pass and run defense. It doesn't matter who the Raiders play, you can be certain that Oakland's opponent will be moving the ball. But terrible defensive play hasn't slowed down the Raiders, and somehow Oakland's offense continues to outscore their opponents week in and week out.
Behind Derek Carr's efforts, the Raiders have the 5th best total offense, the 4th best pass offense, and the 8th best run offense. Heading into Sunday's matchup, Carr has thrown for 2321 yards, 17 touchdowns, and just 3 interceptions. Although you don't often hear it, Carr deserves to be in the MVP conversation and those statistics prove just that.
Unlike the Raiders, the Broncos will be sending someone less stellar to line up under center. Trevor Siemian isn't the flashiest quarterback in the league, but he's being enough to ensure that the Broncos keep winning. But compared to Carr the difference in skills is notable; Siemian has thrown for only 1487 yards, 8 touchdowns, and 4 interceptions. However, it should be noted that Siemian missed some playing time due to an injury. But either way, the strength of this Broncos team lies in their defense. The Broncos have the 3rd best total defense in the league and the best pass defense in the NFL. Their run defense isn't as impressive as it only ranks 24th.
So far this season the Raiders haven't been facing the strongest defenses. Only the Ravens or the Chiefs defense can be categorized as challenging. But this Sunday Carr will have to try his best against the reigning Super Bowl champions secondary. Looking over the numbers it's clear that the Raiders should look to establish the run as soon as possible. But in the end this is one game that's too close to call and even the top sportsbook odds know it.