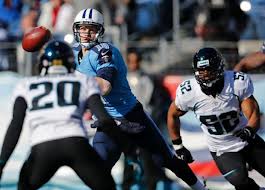 This Thursday, the 18th of December, 2014, just a week before Christmas, we will see the now 2-12 Tennessee Titans (3rd AFC South) as they travel of Florida to play the now 2-12 Jacksonville Jaguars (3rd AFC South). Gametime is scheduled for 8:25 PM ET in EverBank Field in Jacksonville, Florida and as with all NFL regular season Thursday night games, it will be televised nationally on NFL TV.
These 2 teams are tied for 3rd in the AFC South and with their present records of each at 2-12, they have nothing to lose in the game, as it's the next to last regular season game, and more than likely the next to last game of the 2014 season for both the Titans and the Jaguars.
This Thursday night the Jaguars are favored in the game at -3 with the Over/under at 40 ½ with Money Line -170 and comeback ML of +150 for the Titans. This game and the team's quarterbacks are the first issue, with Jacksonville's rookie QB Bortles, who is still their starting QB and likely their QB of the future. QB Bortles was a 3rd round draft selection this season, and has had 11 starts in 2014 with 8 touchdowns and 11 intercepts, after he replaced QB Henne. QB Bortles as a rookie has the 2nd worst completion rating at 70.6 in the NFL and opposing defenses have sacked him some 41 times since his 1st of 11 games back on Oct. 9th 2014.
On the other side the Titans QB Locker future with the Tennessee is questionable, since he was injured last weekend. His injury was a dislocation of his non throwing arm that happened in the latter part of their week 15 game Sunday in their loss to the Jets 16-11. Thus, he has been placed on injured reserve. He was the Titans 8th overall pick back in 2011, and has missed 14 of his 32 potential starts to several different injuries. His contract expires at the end of this 2014 season. So this Thursday, with Locker on IR and backup QB Mettenberger also out with a shoulder injury, the Titan again will use QB Whitehurst who came in for Locker last week and completed 10 of his 24 passes for 203 total yards. He has an 84.9 completion rating in his 3 games as a starter this season.
To add a few statistics to this preview the 2-12 Titans this season have average some 16.5 points per game while allowing their opponents to score 27.9 points per game, their record is 1-6 for home games, and 1-6 on the road games. The 2-12 Jaguars have averaged scoring 15.1 points per game in 2014 while allowing the opponents to score an average of 26.9 points per game, and their record for 2014 is 2-5 for home games and 0-7 for road games. That pretty well explains why these two teams have losing record.
So of you bet on NFL football at an online sportbook, this is the next to the last regular season game, with next week the 2-12 Titans playing at home against the 10-4 Indianapolis Colts (1st AFC South) on the 28th of December for their last season game at 1 PM and on CBS TV. Meanwhile the 2-12 Jaguars play at the 7-7 Houston Texans (2nd AFC South) in their last regular season game at 1 PM ET and on CBS.