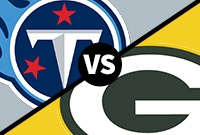 The Green Bay Packers were supposed to be the sportsbook favorite to make it all the way to the Super Bowl and win the greatest show on turf. But heading into Week 10, the Packers have lost 3 out of their last 4 games. The first two losses were against the Cowboys and the Falcons, so the losses were dismissible because those two are some of the best playoff contenders within the NFC. However, this past Sunday's loss against the Indianapolis Colts was not so easily dismissed. In fact the loss raised some daunting questions about this Green Bay team. Such as; are the Green Bay Packers still worthy of your bet on
NFL money lines
?
NFL Odds – Week 10 – Sunday, November 13th

Tennessee Titans

+2 ½ (-110)

49 ½ (-110)
Green Bay Packers

-2 ½ (-110)

49 ½ (-110)
In the Packers' next contest, the sportsbooks are still siding with Green Bay, but by a margin so slim that they might as well be the underdog. The 2-point spread is a clear indication that both the bookies and the fans are quickly losing faith in the supposed Super Bowl favorites. But what is it about this Packer team that is causing them to consistently lose games?
Looking over the statistics, that answer might not be so easy to find. The Packers don't have the best figures in the game, but overall they rank pretty well offensively and even better defensively. Simply put, the Packers haven't been finding ways to win their contests. Week in and week out Green Bay keeps getting outplayed. They have favorable matchups, but the players just aren't making plays. Sure, the Pack may have had to deal with more than their fair share of injuries, but at some point you've got to stop making excuses and start making plays. After this past Sunday's game concluded, both Aaron Rodgers and the Packers' head coach, Mike McCarthy, stressed that the level of energy the team was displaying was inadequate and that a
change was needed
. Whether their pleas fell on deaf ears remains to be seen but one thing is for certain; the Titans will be looking to take advantage of this meager Green Bay team.
The Titans will be coming into this game with a 4-5 record, which is all too familiar territory for Tennessee. Although they have a pretty lousy record, the Titans haven't been all that terrible this season. The fact that the spread is set at 2-points for this Sunday's game should be testament to that fact. The Titans currently have the 8th best offense in the NFL, but that's mostly because they have the 3rd best rushing offense in the league. Their passing game certainly isn't helping them as it ranks as the 22nd worst in the league. The Packers have the #1 run defense in the NFL, so it's very unlikely that the Titans will be able to execute their game plan. Perhaps the sportsbook should've considered that when putting together these odds.