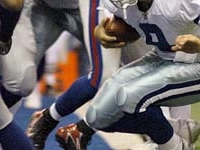 This Sunday afternoon, the Dallas Cowboys travel to Carolina to take on the Panthers. Gametime in Bank of America Stadium in Charlotte, NC, is scheduled for 1:00 PM ET, with regional covered to be provided by FOX.
The Cowboys come into this game after a loss on the road to the Baltimore Ravens, 31-29. The Ravens did just enough to win, as the Cowboys held edges in first downs at 30-19, total yards at 481-316, and rushing yards at 227-86. Dallas also held onto the ball for 21 more minutes than Baltimore. Down 31-23, the Cowboys had a chance to tie the game in the final :32 seconds, but failed on a two-point conversion. QB Tony Romo threw 25-of-36, for 261 yards, and 2 touchdowns. Start your Football Wagering on Cowboys vs. Panthers Game.
The Panthers had Week 6 off, but fell to the Seattle Seahawks in Week 5, 16-12. The Panthers were held to 190 total yards of offense, were sacked 4 times, and lost a fumble. The Seahawks held onto the ball for 11 more minutes than Carolina. QB Cam Newton threw 12-of-29, for 141 yards. The Panthers have lost three straight games. While they were averaging 374 yards per game, they managed only 190 in Week 5. On the positive side, they have scored 63 points in their two games as the underdog this year, and all of their games this season, except one, have been close.
The underdog is 23-4 ATS in Cowboys games, and 5-0 ATS in Panthers games. Dallas is 1-4 ATS following a win spreadwise. The Cowboys are 2-3 ATS on the season, and 0-1 ATS as an away favorite. Carolina is 4-0 ATS following a win spreadwise. The Panthers are 2-3 ATS overall, and 1-0 ATS as a home underdog. Check the Football Lines for Cowboys vs. Panthers Game.
These two teams have met seven times since 2001, with the Cowboys leading the series 6-1. Their last meeting, in September 2009, resulted in a 21-7 Cowboys victory. In that one, Dallas was favored by 9 points. In a December 2007 matchup, the Cowboys won 20-13, after they were favored by 10 ½ points.
For this weekend's game, the Cowboys are 2 point road favorites from SBG Global Sportsbook. The over/under is set at 45 ½ points.

Open an Account for the best Sportsbook Parlay and Vegas Teaser Payouts in the Industry.
Check the Game Podcast