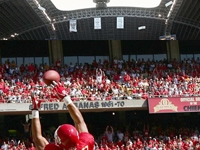 On Sunday afternoon, the Buffalo Bills travel across the country to San Francisco to take on the 49ers. The first kick of the ball is scheduled for 4:25 PM ET in Candlestick Park in San Fran, CA, and all of the action will be televised on CBS.
The Bills are coming off an embarrassing loss at home to the New England Patriots, 52-28. Up 21-7 in the third quarter, they gave up 45 second-half points, allowing the Patriots to run away with the lead. Six turnovers, including 4 interceptions, limited the Bills offense, while their defense gave up 31 points in the fourth quarter alone. They suffered a 33-19 deficit in first downs, and a 247-98 deficit in rushing yards.
QB Ryan Fitzpatrick threw 22-of-39, for 350 yards, and 4 TDs, while WR Donald Jones ran for 90 yards and a touchdown on just 2 catches. Start your NFL Wagering on Bills vs. 49ers Game.
The 49ers bounced back after their first loss of the season in Week 3 to destroy the New York Jets, 34-0. They held ridiculous edges in first downs at 26-9, rushing yards at 245-45, and turnovers at 4-0. San Fran also held the ball for nearly 14 more minutes than the Jets. QB Alex Smith threw 12-of-21, for 143 yards. The 49ers covered by 30 points over the Jets, and are at +159 ½ points ATS in their last 23 games.
The Bills are 2-2 ATS this season, and 0-1 ATS as the away underdog. The 49ers are 9-3 ATS when facing an opponent with a .500 or better record outside of their division. They are 3-1 ATS overall, and 1-0 ATS as the home favorite. Check the NFL Betting Odds for Bills vs. 49ers Game.
These two teams have met just three times since 2001, with the 49ers winning twice. Their last meeting, in 2008, resulted in a 10-3 San Fran victory. In that one, the Bills were 6 ½ point favorites. In a December 2004 matchup, the Bills routed the 49ers, 41-7. Buffalo was an 11 point favorite in that game.
For Sunday's matchup, the 49ers are 9 ½ point home favorites from SBG Global Sportsbook. The over/under is set at 44 ½ points.
Open an Account for the best Sportsbook Parlay and Vegas Teaser Payouts in the Industry.
Check the Game Podcast: