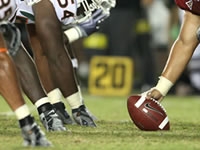 The Miami Dolphins leave South Beach and the aftermath of tropical storm Isaac behind and travel to "Big D" on Wednesday to complete the preseason schedule versus the Dallas Cowboys. Gametime is 8:30ET at Cowboys Stadium located in Arlington,Tx.
Miami (0-3) is winless thus far through 3 exhibition contests. Their last defeat came at the hands of the Atlanta Falcons 23-6 on Fri. You may see QB Ryan Tannehill more than one would expect of a starter in the last practice game, but being a rookie in need of experience and considering how much out of rhythm the Dolphins "O" has looked in the 3 losses, it is a possibility. Check the NFL Preseason Odds for Buccaneers vs. Redskins Game.
Dallas (2-1) will not play QB Tony Romo on Wednesday after he threw for 2 touchdowns in a 20-19 triumph over St. Louis last week. That performance, and the fact the Cowboys' open the regular season just one week later on Sept. 5th against the Giants, should keep him on the sidelines along with most of the Dallas regulars.
Last year during the regular season, the Cowboys beat the Dolphins by the same score as last week's preseason win over the Rams 20-19. Dallas also leads the regular season series between these two teams since 2001, winning twice and dropping one game to the Dolphins. Start your NFL Preseason Wagering action on Dolphins vs. Cowboys Game.
Miami is 0-3 SU on the preseason and 0-1 SU on the road. They are 0-3 ATS, and 0-1 ATS away from home. The Cowboys are 2-1 SU on the year, and 1-0 SU at home. They are 1-2 ATS thus far this year, and 0-1 ATS when playing in Dallas.
The Cowboys are a 3.5 point home favorite on a $110/$100 moneyline. When favored, Dallas is 0-1 ATS this year, and 0-1 ATS as the home favorite. The Dolphins are 0-2 ATS as the underdog, and 0-1 ATS as the road dog. The same moneyline applies to the under/over of 39 total points.
Open an Account for the best Sportsbook Parlay and Vegas Teaser Payouts in the Industry.
Check the Game Podcast: