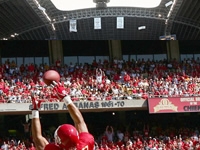 A team from the "Second City" travels to the "Big Apple" on Friday night as the Chicago Bears and New York Giants meet in a good old fashioned NFL contest during week three of the exhibition schedule. The games first kick in MetLife Stadium is scheduled for 8:00ET and it can be viewed nationally on CBS.
Chicago (1-1) introduced its offense featuring QB Jay Cutler, RB Matt Forte and new acquisition WR Brandon Marshall in last weeks 33-31 victory over Washington. Cutler and Forte were held out in week ones loss to Denver. The trio should get extended playing time against the Giants on Friday. However, MLB Brian Urlacher will get no playing time as he is out for the remainder of the preseason. Punter Adam Podlesh is questionable. Start your NFL Preseason Wagering action on Seahawks vs. Chiefs Game.
Reigning Superbowl Champ New York (1-1) enters this affair off an impressive 26-3 win over their intra-city rival Jets last week. The Giants "D" was especially tough against Jets QBs Mark Sanchez and Tim Tebow sacking them a total of 7 times. Receiver Hakeem Nicks most likely will again be missing in this one as he recovers from a broken foot.
The Giants beat the Bears 41-13 in NY during last year's preseason. Prior to that, the "Monsters of the Midway" had won 3 in a row. The teams have split the difference in the regular season series, each winning 2 games. The last time the two played in October 2010 in New York, the Giants beat the Bears 17-3. Check the NFL Preseason Odds for the Bears vs. Giants Game.
The Bears are 1-1 SU, and this will be their first road game of the preseason. They are 1-1 ATS. The Giants are 1-1 SU, as well, and this will be their first home game. They are 2-0 ATS.
New York is a 3 point home favorite at a -$115. This is their first home game, and their first game listed as the favorite. The Bears have not been listed as the underdog prior to this game. The under/over of 41 total points is available on a $110/$100 moneyline.

Open an Account for the best Sportsbook Parlay and Vegas Teaser Payouts in the Industry.
Check the Game Podcast: