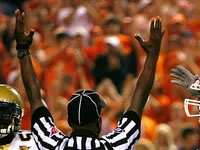 A team from America's heartland meets America's team when the St. Louis Rams travel to the Lone Star State on Saturday to meet the Dallas Cowboys. The game is scheduled to commence at 8:00ET in majestic Cowboys Stadium.
St. Louis (1-1) is hoping to improve on it's 2-14 regular season record of last year. Much will depend on new coach Jeff Fisher and his QB Sam Bradford. Bradford played well in the Rams 31-17 win against their fellow Missourian Kansas City Chiefs last week. He was 6-9 passing for 102 yards and 2 TD's. Bradford should see more time than the 1 quarter he played last Saturday. Start your NFL preseason Betting action on Rams vs. Cowboys Game.
Dallas (1-1) also received a solid effort from it's starting QB Tony Romo in their 28-20 loss to San Diego last Saturday. This, despite him not having his favorite targets to throw to. TE Jason Witten and WR Miles Austin will both miss the rest of the preseason and you can add WR Dez Bryant to the injury list vs. the Rams.
The Cowboys beat the Rams 34-7 in Dallas midway through last year's regular season. Since 2001, the Cowboys have won 3 games against the Rams, while St. Louis has won 2 of their own. Check the NFL Preseason Odds for the Rams vs. Cowboys Game.
The Rams are 1-1 SU on the season, and 0-1 SU on the road. They have gone 1-1 ATS thus far this preseason, and are 0-1 ATS away from St. Louis. The Cowboys are 1-1 SU overall, and this will be their first home game of the year.
Dallas is a 5 point home favorite in this one on a $110/$100 moneyline. This will be the first time the Cowboys have been listed as the favorite. The Rams are 1-1 ATS as the underdog, and 0-1 ATS as the road dog. The same moneyline holds on the under/over of 41 total points.

Open an Account for the best Sportsbook Parlay and Vegas Teaser Payouts in the Industry.
Check the Game Podcast: