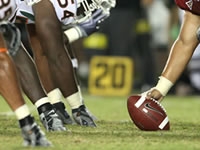 The Eagles soar into Cleveland on Friday night for a 2012 NFL preseason contest against the Browns. The game is scheduled to commence in the aptly named Cleveland Browns Stadium at 7:30ET.
Philadelphia (2-0) saw its football life flash before its eyes during Monday's 27-17 victory over New England. QB Michael Vick went down on the sixth play of the game after taking a shot in the ribs. X-Rays were negative but Vick is not expected to see any action on Friday. Start your Football Preseason Betting action on the Philadelphia Eagles at SBG Global.
Most likely, Vick would not have played in this one anyway, since the Browns and Eagles square off in the regular season opener in a little over two weeks. Don't expect to see much from either team in terms of starters and strategy in this preseason matchup. The fact that there were only 3 days to prepare for this one will also limit what Philly can do coming off of Monday night.
Cleveland (2-0) looked impressive, even for an exhibition contest, in their 35-10 beatdown of Green Bay last week. There are no significant injuries to report for the Browns. Rookie QB Brandon Weeden showed improvement over his performance in Week 1. Check the Football Preseason Odds for the Eagles vs. Browns game.
So far this year, the Eagles are 2-0 SU overall, and 1-0 SU in road games. The Eagles are 1-1 ATS, and 1-0 ATS away from home. The Browns are also 2-0 SU on the preseason, and have yet to play a home game. They are 2-0 ATS overall.
Philadelphia has won the previous two regular season contests between these two teams, with the last one coming in December of 2008, 30-10. Cleveland is a 3.5 point home favorite listed at a -$110. This will be the first time this preseason that the Eagles have been the underdog, as well as the first time the Browns have been favored. The over/under of 38.5 total points is also at -$110.
Open an Account for the best Sportsbook Parlay and Vegas Teaser Payouts in the Industry.
Check the Game Podcast: