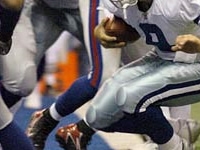 The Cleveland Browns travel to the not so frozen tundra of Green Bay on Thursday to face the Packers in their first exhibition game at Lambeau Field for 2012. The turf should be soft with the temperature around 70 degrees at the 8:00ET kickoff.
The Browns came out on top of Detroit last week 19-17. Rookie QB, Brandon Weeden, already named the teams starter, had a rough professional debut going 3 for 9 with a total of 62 yards. He threw an interception and fumbled once in only 3 possessions of work.
An interesting storyline to this game is Green Bay's potential interest in Browns backup QB, Colt McCoy. The Packers lost solid backup Matt Flynn to free agency this past offseason. McCoy had a decent effort against the Lions throwing for 88 yards completing 6 of 8 passes in the process. Start your NFL Preseason Wagering action on the Green Bay Packers at SBG Global.
Look for McCoy to play most of the second half against the Pack after relieving Weeden who is expected to play most of the first two quarters. This could be an audition for McCoy in Lambeau.
Seneca Wallace may see some time behind center too. Highly regarded rookie RB Trent Richardson will not play and Cleveland also has numerous injuries on defense.
Green Bay opened their preseason in San Diego last week where they fell to the Chargers, 21-13. Aaron Rodgers had a less than remarkable 2012 debut going 2 of 8 for 16 yards. Add to that an interception and a lost fumble and his night was over early. Suffice it to say, things will get better in Mr. Rodgers' neighborhood. Check the Football Preseason Lines for the 2012 NFL Season.
Rodgers was without top receiver Greg Jennings who is also expected to miss this contest along with RB James Starks who developed a turf toe versus San Diego last week. Green Bay signed RB Cedric Benson last week as insurance for the running game, but he is not expected to play against Cleveland. The Packers will also be without 2011 leading tackler, LB Desmond Bishop who may miss the rest of the season with a torn hamstring.
These teams have met for four years straight in exhibition contests. The Browns have won the past two. Green Bay is a 3 point home favorite at even money and the under/over of 40 total points is available on a $110/$100 moneyline.
Open an Account for the best Sportsbook Parlay and Vegas Teaser Payouts in the Industry.
Check the Game Podcast: