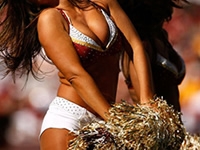 The Panthers venture from the Carolina countryside and pay a visit to the Steel City on Thursday night to meet the Pittsburgh Steelers in the final game of preseason play for the two teams. The contest will take place in Heinz Field and is scheduled to begin at 7:00ET.
Carolina (2-1) did to the Jets the same thing their previous 2 opponents had done, by not allowing a touchdown in their 17-12 victory over NY on Sunday. Jonathan Stewart twisted an ankle in that one, but it is not believed to be serious. He will certainly rest it on Thursday, joining many other Carolina and Pittsburgh regulars who will sit this one out in preparation for the start of the regular season on Sept.9th. The Panthers cut veteran place kicker Olindo Mare after just signing him to a 4 year contract prior to the beginning of last season. Another kicking veteran, punter, Nick Harris was also let go. Check the Football Preseason Odds for Panthers vs. Steelers Game.
Pittsburgh (2-1) displayed the "D" reminiscent to the "Steel Curtain" days beating the Buffalo Bills 38-7 on Saturday, while grabbing 2 picks and recovering a fumble which all led to touchdowns. The win may have been a costly one though, as 1st round draft choice RG David DeCastro injured his knee and could be out for awhile.
The Steelers have won all 3 regular season matchups with the Panthers. Their last matchup was in December 2010, resulting in a Steelers victory, 27-3, in Pittsburgh.
The Panthers are 2-1 SU on the preseason, and 1-0 SU on the road. They have gone 2-1 ATS so far this year, and are 1-0 ATS away from home. The Steelers are 2-1 SU overall, and 1-0 SU at home. They are 2-1 ATS on the year, and 0-1 ATS in Pittsburgh. Start your Football Preseason Bets on Panthers vs. Steelers Game.
Pittsburgh is favored by 3.5 points at a -$110. As the favorite, the Steelers are 1-1 ATS this year, but 0-1 ATS when favored at home. The Panthers are 1-0 ATS as the underdog, and 1-0 ATS as the away dog. The over / under is 39 points also at a -$110.
Open an Account for the best Sportsbook Parlay and Vegas Teaser Payouts in the Industry.