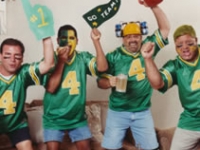 The Superbowl Champion Giants will not have to travel far to meet their intracity rival Jets, as these two teams share a stadium in New Jersey. The Giants have been designated as the "visitors" in this one, but that won't stop their fans from coming out in equal numbers to MetLife Stadium in East Rutherford for the 7:00ET kickoff on Saturday. You can view the action in much of the country on the NFL Network.
This is the second annual "MetLife Bowl" and any time these two teams meet, preseason or not, its is a major event for Big Apple sports fans. Both teams lost their exhibition season openers last week. Start your NFL Preseason Betting action on the New York Giants at SBG Global.
The Giants fell to the Jacksonville Jaguars 32-31. Eli Manning barely broke a sweat, playing just two series before calling it a night. He should play most of the first half against the Jets before giving way to backup David Carr. Carr had a nice outing in the Jags game throwing for 2 touchdowns in the second quarter. Receiver Hakeem Nicks remains out for the game against the Jets.
In the meantime, the Jets were dropping a 17-6 decision to the Bengals in Cincy. Tim Tebow's first effort for the Jets was uninspiring with an 18.2 passer rating. He was 4-8 for 27 yards and a pick. Mark Sanchez played most of the first quarter without any better results, throwing 6 times and completing 4, good for 21 yards. Tebow also ran and scrambled for 34 yards. Check the NFL Preseason Odds for the 2012 NFL Season.
Knowing Jets head coach Rex Ryan's propensity for the dramatic, I have a feeling he was saving his team for Saturdays MetLife Showdown. Sanchez should play most of the first half before the craziness begins with Tebow's entrance. Can you say "Wildcat?"
Even before the designation of the MetLife Bowl, the Giants and Jets have played an annual preseason game since 1969. The Jets lead the exhibition series 23-19-1 and have won 4 of the last 5 including last year's 17-3 triumph.
The Jets are favored by 1.5 points at "home" on a $110/$100 moneyline. The same line holds true for the over / under set at 36.5 total points.
Open an Account for the best Sportsbook Parlay and Vegas Teaser Payouts in the Industry.
Check the Game Podcast: