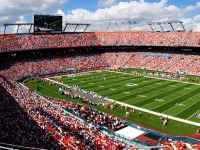 The Forty Niners leave the City by the Bay and travel to the Lone Star State for a NFL preseason matchup on Saturday, featuring San Francisco and the Houston Texans. The opening kickoff is scheduled for 8:00ET in Reliant Stadium.
Both of these teams have high aspirations in 2012 and got off to good starts in their exhibition openers last week. It will be impossible for San Francisco's second year head coach, Jim Harbaugh to better the turnaround shown by the team in his rookie year. After all, a 16-0 record would "only" be a 3 game improvement from their 2011 13-3 mark. Last year, the Niners went from 6 wins in 2010 to the 13 victories. Start your NFL Preseason Betting action on the San Francisco 49ers at SBG Global.
However, work remains to be done to advance from the NFC Championship game to the Superbowl this season. Early indications are the defense is prepared for the challenge based on last week's exhibition opening 17-6 victory versus the Vikings. Minnesota managed just 206 total yards of offense against the 49ers "D."
Frank Gore did not play and San Fran still accumulated 260 yards rushing. Gore is expected to play Saturday night along with WR Mario Manningham and K David Akers who were also given week one off. Check the NFL Preseason Odds for the 49ers vs. Texans game.
Look for QB Colin Kaepernick to get another good look against the Texans after an admirable performance last week. He may be throwing to veteran WR Randy Moss who should see an increase in field time after lining up just four times against Minnesota, without a ball thrown his way. DE Aldon Smith and TE Delanie Walker are out for San Francisco.
This game could showcase defense given Houston's 26-13 win against Carolina last week. The Texans, who had a nice turnaround of their own last season to make the playoffs, held the Panthers to 137 yards of offense and registered 8 sacks along the way.
Starting QB Matt Schaub should see more playing time against the Niners and will have WR Andre Johnson as a target. Johnson was held out last week.
The Texans beat the 49ers in last years preseason by a score of 30-7. Houston is a 3 point home favorite at a -$110. The moneyline is also -$110 on the under/over of 37 total points.

Open an account and remember to take advantage of the 10% Buddy Referral for Friends and Family.
Check the Game Podcast: