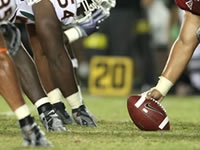 The late game on Sunday Night Football features a rematch of last year's AFC Champtionship game, as the New England Patriots take on the Ravens in Baltimore. The game is scheduled to start at 8:20 PM ET in M&T Bank Stadium in Baltimore, MD. You can watch all of the action nationally on NBC.
The Patriots come into this game after losing their home opener to the Arizona Cardinals in a close game. Final score: 20-18. The Patriots held a 387-245 edge in offensive yards, including a 297-140 edge in passing yards. They also held a 25-16 edge in first downs, but could not capitalize, missing a 42-yard field goal at the end of the game that would have given them the win. New England made a number of mistakes in the game, including being called for 8 penalties costing them 60 yards, and being sacked 4 times. The Patriots also lost TE Aaron Hernandez to an ankle injury, and he is expected to be out for several weeks. QB Tom Brady threw a decent game, going 28-of-46 for 316 yards, and the team's only touchdown. Start your Football Wagering on Jets vs. Dolphins Game.
The Ravens come into this game after losing their road opener to the Philadelphia Eagles in another close game, 24-23. Despite forcing 4 Philly turnovers, the Ravens could not get ahead. The Eagles held a 486-325 edge in total yards, including a 357-214 edge in passing yards. Philly also enjoyed a 26-17 edge in first downs. QB Joe Flacco had a forgettable game, throwing 22-of-42, for 232 yards, and a touchdown, but also 1 interception.
The Patriots are 10-0 ATS in September games when playing a non-division opponent after suffering a loss. They are 1-1 ATS so far this year, and 1-0 ATS on the road. The Ravens are 14-2 ATS in September games as a home favorite by single digit points. They are also 10-1 SU in Week 3 games. Baltimore is 2-0 ATS on the year, and 1-0 ATS as the home favorite. Check the Football Betting Lines for Patriots vs. Ravens Game.
These two teams have met six times since 2001, with New England winning five of them. Their last meeting in AFC Championship game resulted in a 23-20 Pats win, although New England was favored by 7. An October 2010 game went into overtime before ending with another Patriots win 23-20. In that one, the Ravens were 2 ½ point favorites.
For Sunday's game, the Ravens are again 2 ½ point favorites. The over/under is set at 49. Open an Account for the best Sportsbook Parlay and Vegas Teaser Payouts in the Industry.
Check the Game Podcast: