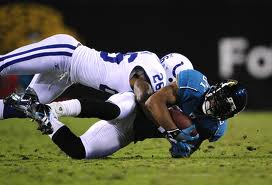 On paper, the Indianapolis Colts encounter with the Jacksonville Jaguars this coming Sunday 29 should be an NFL odds no brainer. The Colts have steadily score 20+ points in each of their three games, and lost only by 4 in their loss to the Miami Dolphins. So yes, they have been already defeated this season, but they also have tasted victory twice in a fairly convincing manner, which is lot more than the Jaguars can say, with their 0-3 record.
The Jaguars are returning to EverBank Field after a two-loss West Coast stint, where they fell to the Oakland Raiders and the Seattle Seahawks.
Unfortunately for the Jags, the NFL odds of having home advantage may be nil, as proven by the 2-28 beating they suffered at the hands of the Kansas City Chiefs on their opening game. Adding to Jacksonville's current woes is the fact that they didn't do very well last season either, when they reached an all time low 2-14 record.
So far, it seems as if new manager David Caldwell and new head coach Gus Bradley have not been able to get the team out of the funk that also characterized their 1-3 preseason. Conversely, the Colts may be riding a feel-good momentum with the return of head coach Chuck Pagano after his bout with leukemia last year, even though they were stuck with the 'Mr. Irrelevant' draft pick for the second consecutive year.
Nevertheless, the Jaguars may have an ace up their sleeves, and that's the fact that despite their poor showing last season, they pretty much held their ground against the Colts, tying their personal series. And the season before that, Jacksonville actually swept Indianapolis. If that trend continues this year, the Jags may be able to find the motivation to pull the upset. Plus, starting tight end Marcedes Lewis may finally be doing his 2013 debut, adding a much needed boost to the Jaguars' offense (Lewis has been battling a calf injury since before the regular season began). Regardless of that though, the 7.5 spread and football odds rightfully favor the Colts, and it is expected that Indianapolis will contribute way much more to the 42.5 over-under score than Jacksonville will.