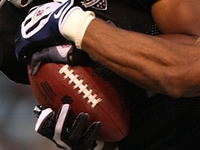 The National Football League 2012 exhibition game schedule kicks off this Sunday, August 5th, with a matchup of the Arizona Cardinals and New Orleans Saints. This traditional game played in Canton, Ohio begins at 8:05ET.
Surely the Saints don't need any more publicity than they have already received this summer with the bounty scandal. It cost their former defensive coordinator, Greg Williams his new job with the St. Louis Rams and resulted in year long suspensions to head coach Sean Payton and linebacker Jonathan Vilmer.
Still and all, New Orleans is expected to have a decent year with speculation they'll win 10 games. They still have Drew Brees behind center, anchoring a solid offense that puts 30 points on the board in regular fashion. Brees had an amazing 2011-12 campaign throwing for 5,476 yards and 46 TD's. Check the NFL Odds for the 2012 NFL Season.
Darren Sproles is a serviceable all purpose back and Jimmy Graham led the team in both receiving yards and touchdowns. With, or without Vilma, the defense is below average and many times the winner in Saint's games is "who's got the ball last."
The pass coverage was especially lacking last year. With it all however, the Saints finished first in the NFC South, going 13-3 and winning 8 straight to end the regular season.
The Arizona Cardinals are coming off a so-so year where they went 8-8 and finished second to the San Francisco Forty Niners in the NFC West. They ranked 19th and 18th, respectively in offensive and defensive stats.
Cardinals QB, Kevin Kolb threw for just 9 touchdowns while being intercepted 8 times. Beanie Wells ran for over a thousand yards and led the Cardinals in touchdowns with 10. Larry Fitzgerald is possibly the best WR in the NFL. Start your NFL Betting action on the Chicago Bears at SBG Global.
Being the first practice game and an early and extra one at that, it is impossible to handicap this matchup to any great degree. It is safe to assume most of the starters, including Brees, will only make brief appearances.
For what it's worth, New Orleans is a 3 point favorite in this one on a $110/$100 moneyline. The same moneyline holds on the over/under of 34.5 total points.
Open an Account for the best Sportsbook Parlay and Vegas Teaser Payouts in the Industry.