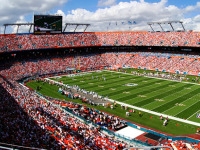 In the first regular season game of the 2012 NFL year, the Dallas Cowboys travel to New York to take on the Giants. This extremely rare Wednesday night game kicks off in MetLife Stadium at 8:30 ET, and can be viewed nationally on NBC.
In fact, this is actually an NFL first, with the Wednesday night game being scheduled so as not to conflict with the Democratic National Convention. But in any case, just as the Dems and Repubs are mortal enemies in American politics, the Cowboys and Giants have been mortal football enemies for years. Check the NFL Odds for Cowboys vs. Giants Game.
Since head coach Tom Coughlin has taken over for the Giants, they have led the series spread, going 12-4 ATS over his time in New York. The Giants are a more-than-respectable 10-6 SU against Dallas, and have won and covered in 5 of their last 6 meetings. In their last 9 games overall, the Giants are 8-1 ATS. The Giants went 8-7 ATS in 2011, 3-4 ATS in New York, and were 2-4 ATS as the home favorite.
The Cowboys have been struggling against the spread coming into their road opener, going 2-10 ATS over the last two years in division play. They are 14-18 SU in their last two seasons, with an overall record of 11-20-1 ATS. They come into this game 5-10 ATS in the 2011 regular season, 3-4 ATS on the road, and 2-2 ATS as an away underdog.
In their last meeting in 2011, the Giants were favored by 3 points in New York over the Cowboys, winning 31-14 and covering the spread. Also in 2011, the Cowboys, playing in Dallas, were favored by 4 points, losing 34-37, with the Giants covering again. These two teams have met twice a year, every year since 2008. Start your Football Betting on Cowboys vs. Giants Game.
The opening line favored the Giants by 3 ½ points. Since then, it has moved to 4 points favoring New York. The over/under began at 37, but had moved to 44 ½ points by Monday. Keep an eye on the SBG Global football betting odds between now and Wednesday's opening kick.
Open an Account for the best Sportsbook Parlay and Vegas Teaser Payouts in the Industry.
Check the Game Podcast: