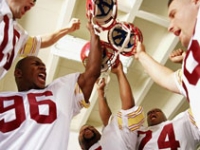 The Chicago Bears (7-8) will be facing off against the Minnesota Vikings (3-12) at Mall of America Field. Both teams are eliminated from playoff contention for this season, but this NFC north division rivalry is something each of them look forward to. The Chicago Bears are currently on a five game losing streak, while Minnesota has been struggling all season. Chicago had started off strong with a solid winning record, but could not keep it going being plagued with so many injuries to many top performers. Both teams would like to close out their forgettable seasons with a win, so each will be fighting to end on a positive note. Check the Football Odds for Chicago Bears vs. Minnesota Vikings game.
Many of the Chicago Bears best players will be out for this particular game including quarterback Jay Cutler as well as running back Matt Forte. Leading wide receiver Johnny Knox is also out for the Bears after having back surgery and even backup running back Marion Barber is listed as questionable. The Vikings have their fair share of key players not playing as well including superstar running back Adrian Peterson who has major damage to his knee.
This gives them more of a chance to see running back Toby Gerhart in action and see his playmaking abilities. Vikings quarterback Christian Ponder had also recently suffered a concussion and they may have to depend on backup quarterback Joe Webb to take the reins and pull out a victory. Start your Football betting action on Chicago Bears vs. Minnesota Vikings game.
This probably is not the most exciting game to watch during the final week of the season with a ton of injuries to top players on either team. The Minnesota Vikings are a slight favorite with a spread of -1.5 over the Chicago Bears due to many key players not participating in the final game of the season on top of the Bears current losing streak. The over/under on the overall points is 41.
Open an account for the best Sportsbook Parlay and Vegas Teaser Payouts in the Industry.