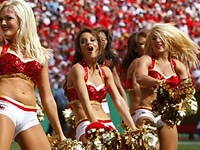 The final week of the NFL season sees the Buffalo Bills visit the New England Patriots in an important game for the Patriots. It also happens to be one that is filled with potential intrigue.
Playoff Implications – The Bills are out of the playoff running again and the Patriots are in the middle of the playoff scramble as usual. Currently, the Patriots have the number one seed in the AFC, which means any team that would beat them would have to do it in the Patriots' house where they are 6-1 this season heading into the game. That seems a tall order to say the least. To wrap up the number one seed, the Patriots must win this game. Lose it and either Baltimore or Pittsburg could take the top seed depending on the results of their games. Check the NFL Odds for Buffalo Bills vs. New England Patriots game.
Brady Injury? – The news out of New England this week has centered on Tom Brady. Reports indicated that he went to the hospital to be examined for a separated shoulder on his no throwing arm. The Patriots deny these reports and say Brady has no injuries. If they are lying, they would be in violation of NFL rules. Regardless, the same reports suggested the examination found Brady was fine, which would seem to make this much ado about nothing when you get down to it.
Betting Odds – The oddsmakers seem to feel Brady will be fine. They've made the Patriots a 10.5 favorite. The expectation is the game could be high scoring with an over/under set at 50.5 points. This is the second highest of all the
games this weekend. Both teams have potent offenses and iffy defenses, so it is hard to argue with such a high number.
Outlook – The Patriots certainly come into this game very motivated to wrap up the number one seed. On paper, they seem to be a lock for the win and perhaps a blowout victory at that. NFL games are not played on paper,however. The Bills broke a long losing streak last week by pummeling the Western Division leading Denver Broncos. On top of this, the Bills actually beat the Patriots 34-31 in Buffalo way back in week three of the season. Start your NFL betting action on Buffalo Bills vs. New England Patriots game.
Many betters will think the Bills have nothing to play for in this game and will come in flat. That may be a very dangerous point of view. After all, the same could have been said for last week and the Bills played like a team possessed when they slaughtered the Broncos 40-14. Such a result makes this weeks game very intriguing from a betting point of view.
Open an account for the best Sportsbook Parlay and Vegas Teaser Payouts in the Industry.