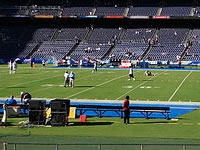 NFL Lines: Bills vs. Texans. This Sunday afternoon, the Buffalo Bills travel to Texas to take on the Houston Texans. The game in Reliant Stadium is scheduled to kick off at 1:00 PM ET, and you can watch all of the action regionally on CBS.
The Bills had Week 8 off, but are coming off of a loss at home to the Tennessee Titans in Week 7, 35-34. Up 34-28 in the fourth quarter, Buffalo gave up a touchdown in the final 1:03 of the game to give the Titans the victory. The game was close in the stats, with the Titans holding a slight 390-382 edge in total yards. However, penalties and turnovers cost the Bills, as they were called for 8 of them, lost a fumble, and threw an interception. QB Ryan Fitzpatrick threw 27-of-35, for 225 yards, an 3 touchdowns. Start your Football Betting on Bills vs. Texans Game.
Houston also had Week 8 off, but are coming off of a rout of the Baltimore Ravens, 43-13. This game was all Houston, as they held a 420-176 edge in total yards, and a 27-12 edge in first downs. The Texans forced two Ravens interceptions, and held onto the ball for 17 more minutes than Baltimore. QB Matt Schaub threw 23-of-37, for 256 yards, an 2 touchdowns. The Texans hold a 141-83 edge in rushing yards per game this season so far.
Buffalo is 6-1 ATS coming off of a bye week. The Bills are 3-4 ATS on the season, and 1-2 ATS as the road underdog. Houston is 5-1 ATS coming off of an ATS win, and 4-1-1 ATS at home. The Texans are 5-2 ATS overall this year, and are 3-1 ATS as a home favorite. Check the Football Lines for Bills vs. Texans Game.
These two teams have met five times since 2001, with the Bills leading the series 3 games to 2. Their last meeting, in November 2009, resulted in a 31-10 Houston victory. In that one, the Texans were 3 point favorites. In a November 2006 matchup, the Bills won 24-21, in a game in which Houston was favored by 3 points.
For this weekend's game, the Texans are 10 point home favorites from SBG Global football odds. The over/under is set at 47 points.
Open an Account for the best Sportsbook Parlay and Vegas Teaser Payouts in the Industry.
Check the Game Podcast